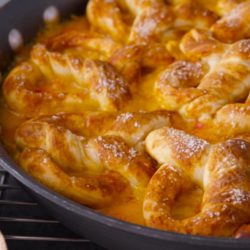 Heat oven to 375°F. In 12-inch ovenproof nonstick skillet, melt butter over medium-high heat until sizzling. Add carrots and onion; cook 3 to 4 minutes, stirring occasionally, until vegetables are softened. Reduce heat to medium. Sprinkle flour over vegetables; cook and stir until flour is golden brown.
2
Slowly stir in broth with spoon (wooden or nylon). Add bell pepper and ground red pepper. Cook 4 to 5 minutes, stirring occasionally, until thickened. Stir in chicken and cheese. Cook and stir until cheese is melted. Remove from heat; cover and keep warm.
3
Unroll dough on lightly floured work surface so short side of rectangle is pointed downward. Cut dough lengthwise into 8 equal 12-inch strips. To make pretzel shape, roll each strip into about 20-inch rope; form dough into U shape.
4
Twist ends together three times. Press down dough where dough overlaps in an X. Pick ends up, and fold over so they rest over bottom on U shape, pressing ends to stick. Place pretzels on cookie sheet lined with waxed paper.
5
In small microwavable bowl, microwave 1/4 cup water uncovered on High 30 to 60 seconds or until very hot but not boiling. Add baking soda; stir until dissolved. Brush pretzels with soda mixture (not all soda mixture will be used). Sprinkle tops of pretzels evenly with salt. Place pretzels on top of filling in skillet.
6
Bake 19 to 22 minutes or until pretzels are dark golden brown and filling is bubbling. Let stand 10 minutes before serving.
Continue Reading →