Easy Billionaire Bars
Over-the-top decadence is what we look for in a billionaire bar, and this indulgent recipe delivers on just that! A Pillsbury™ sugar cookie base gets topped with a melted caramel layer, followed by sweetened cream cheese with chopped Reese's™ Peanut Butter Cups™ miniatures, and finished with chocolate ganache and crunchy chopped pretzels.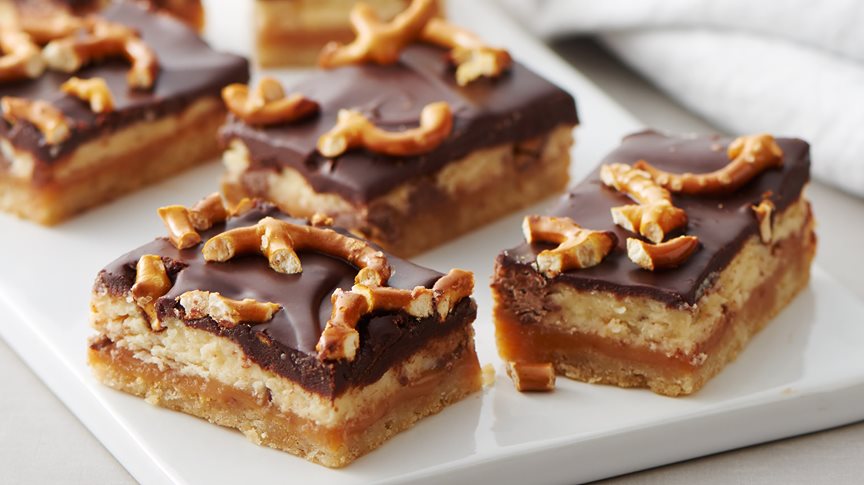 Ingredients
Cookie Base
1 roll (16.5 oz) Pillsbury™ refrigerated sugar cookies
Caramel Layer
30 caramels, unwrapped (from 11-oz bag)
3 tablespoons heavy whipping cream
Cream Cheese Layer
1 package (8 oz) cream cheese, softened
½ cup butter, softened
1 cup powdered sugar
1 teaspoon vanilla
1 cup chopped Reese's™ Peanut Butter Cups™ miniatures (about 18 miniature cups)
Ganache Layer
1½ cups semisweet chocolate chips
¾ cup heavy whipping cream
Topping
Instructions
Heat oven to 350°F. Line 13x9-inch pan with foil, allowing some to hang over sides of pan; spray with cooking spray. Crumble cookie dough into pan; press evenly in bottom. Bake 13 to 16 minutes or until golden brown; cool 5 minutes on cooling rack.
In small microwavable bowl, microwave Caramel Layer ingredients uncovered on High 1 minute 30 seconds, stirring halfway through. Continue heating in 15-second increments, until caramels are melted and can be stirred smooth. Spread over warm cookie base. Return to oven, and bake 5 minutes; cool 10 minutes on cooling rack. Refrigerate 15 minutes.
In large bowl, beat cream cheese and butter with electric mixer on low speed until smooth and creamy. Beat in powdered sugar and vanilla. Stir in chopped miniature cups. Drop mixture by spoonfuls over caramel layer; spread evenly. Return bars to refrigerator.
In small bowl, add chocolate chips. In 1-quart saucepan, heat ¾ cup whipping cream over medium-low heat 3 to 5 minutes or until hot. Pour over chocolate chips in bowl; let stand 5 minutes. Stir until smooth; let stand 5 minutes.
Remove bars from refrigerator. Pour chocolate mixture over cream cheese layer, spreading to cover. Sprinkle with pretzels. Refrigerate until bars are completely set, at least 4 hours. With sharp knife, cut bars into 6 rows by 8 rows, wiping blade between cuts. Store bars covered in refrigerator.
Watch the recipe video here: