Fish Fingers With Avocado Dip
Dip that fish in the avo and have a good time!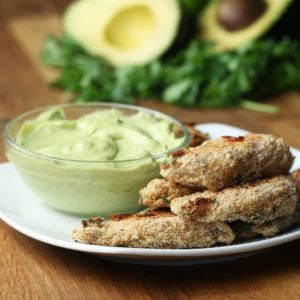 Ingredients
Fish Fingers
1½ pounds white fish fillets
1½ cups bread crumbs
2 tablespoons chopped parsley
1 lemon, zested
⅓ cup all-purpose flour
3 large eggs, whisked
Avocado Dip
2 avocados
1 cup plain Greek yogurt
¼ cup lime juice
¼ cup olive oil
¼ cup cilantro
1 teaspoon salt
1 teaspoon pepper
Instructions
Preheat oven to 400˚F (200˚C).
Cut white fish fillets into 3x4-inch long strips. Set aside.
In a small bowl, combine bread crumbs, parsley, and lemon zest.
Place the flour and eggs in two separate bowls.
Coat each fish strip with the flour, then eggs, and then bread crumbs.
Transfer strips to baking sheet and bake for 15 minutes, flipping halfway and until golden brown.
Combine the avocados, yogurt, lime juice, olive oil, cilantro, salt, and pepper in a food processor and blend until smooth.
Serve with baked fish fingers.
Enjoy!
Watch the recipe video here: