Cinnamon Roll Cheesecake Bars
You don't need a cream cheese glaze on top with this cheesecake-y filling. But then again, if you're already making these bars, you might as well go all out.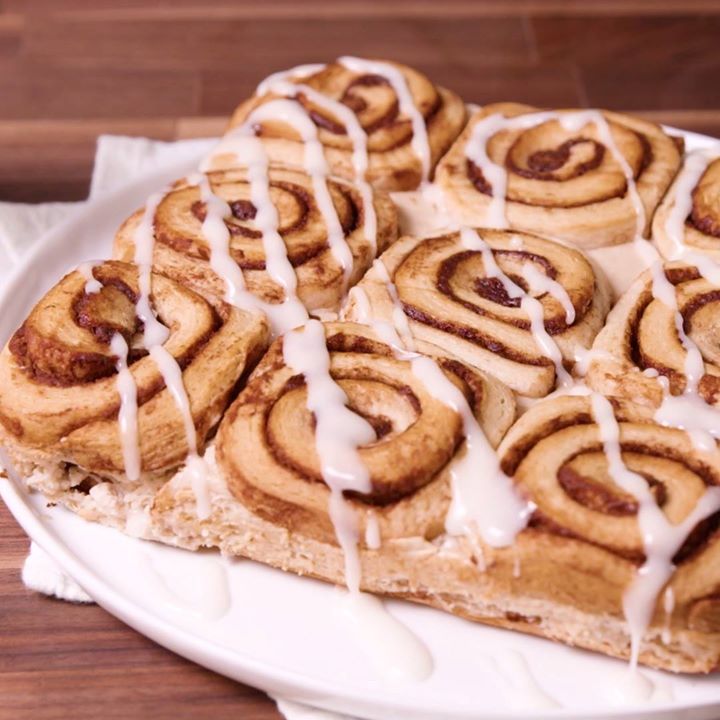 Ingredients
2 tubes pre-made cinnamon roll dough
2 packages cream cheese
1 large egg
½ c. sugar
1 tsp. cinnamon
Instructions
Preheat oven to 350°.
Unroll a tube of cinnamon roll dough and use a rolling pin to flatten it out to to roughly the size of a 9"-x-9" baking dish. Place a sheet of parchment paper on the bottom of the baking dish, then place the flattened dough on top. You may need to use your fingers to spread it out further.
Combine cream cheese, egg, sugar, and cinnamon in a mixing bowl, whipping until light and fluffy, then spread mixture on top of cinnamon roll dough.
Open the second tube of cinnamon roll dough. Cut each cinnamon roll in half width-wise, creating shorter, squatter rolls. Place on top of the cheesecake spread, so rolls are touching one another. Bake for 25 to 27 minutes, or until rolls are lightly golden.
Drizzle with frosting from cinnamon roll packages, if desired. Let rest 10 to 15 minutes before cutting into bars.
Watch the recipe video here: