Buffalo Turkey Wings
These mega wings at will make jaws drop at your next game-day party. The crispy skin, tender meat and zesty sauce will cure any buffalo cravings -- in an extra-large way!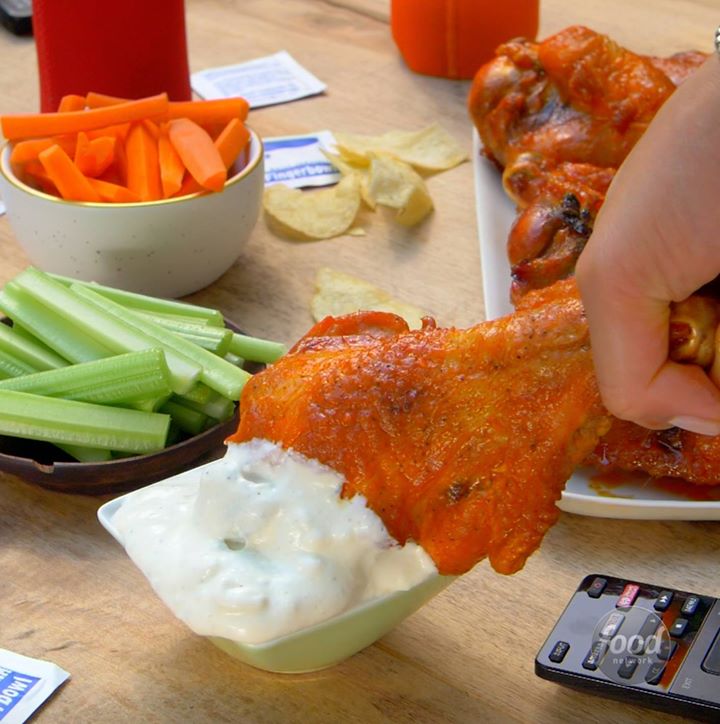 Ingredients
Wings:
4 turkey wings, split into wingettes and drumettes (tips reserved for another use)
Oil, for drizzling
Kosher salt and freshly ground black pepper
Blue Cheese Dip:
½ cup mayonnaise
¼ cup crumbled Maytag or other blue cheese
¼ cup half-and-half
1 tablespoon sour cream
2 teaspoons lemon juice
Kosher salt and freshly ground black pepper
Sauce:
1 stick unsalted butter
1½ cups hot sauce, such as Frank's RedHot
Carrot and celery sticks, for serving
Instructions
For the wings:
Preheat the oven to 350 degrees F. Arrange the wings in a single layer on a cooling rack set into a baking sheet. Pat the wings with paper towels until they are very dry, then drizzle with some oil and sprinkle on all sides with salt and a few grinds of black pepper. Add 1 cup water to the bottom of the baking sheet and tent the pan with foil.
Bake for 1 hour 30 minutes. Remove the foil and continue baking until the wings are tender, the skin is crispy and brown and an instant-read thermometer inserted into the thickest part of the wing registers 165 degrees F, about 1 hour more. Let cool for 10 minutes.
For the blue cheese dip:
Meanwhile, whisk together the mayonnaise, Maytag, half-and-half, sour cream, lemon juice, ¼ teaspoon salt and a few grinds of pepper in a bowl until well combined. Set aside.
For the sauce:
Melt the butter in a medium microwave-safe bowl, 1 to 2 minutes. Add the hot sauce and whisk to combine. Brush the wings all over with the sauce, making sure they are well coated. Serve the wings with the remaining hot sauce, blue cheese dip and carrots and celery.
Watch the recipe video here: