Fried Chicken Po'boys
Traditionally made with fried oysters, po'boys are a hit in New Orleans. We've simple switched it to fried chicken which is equally as delicious. Aren't all sandwiches filled with fried food the greatest?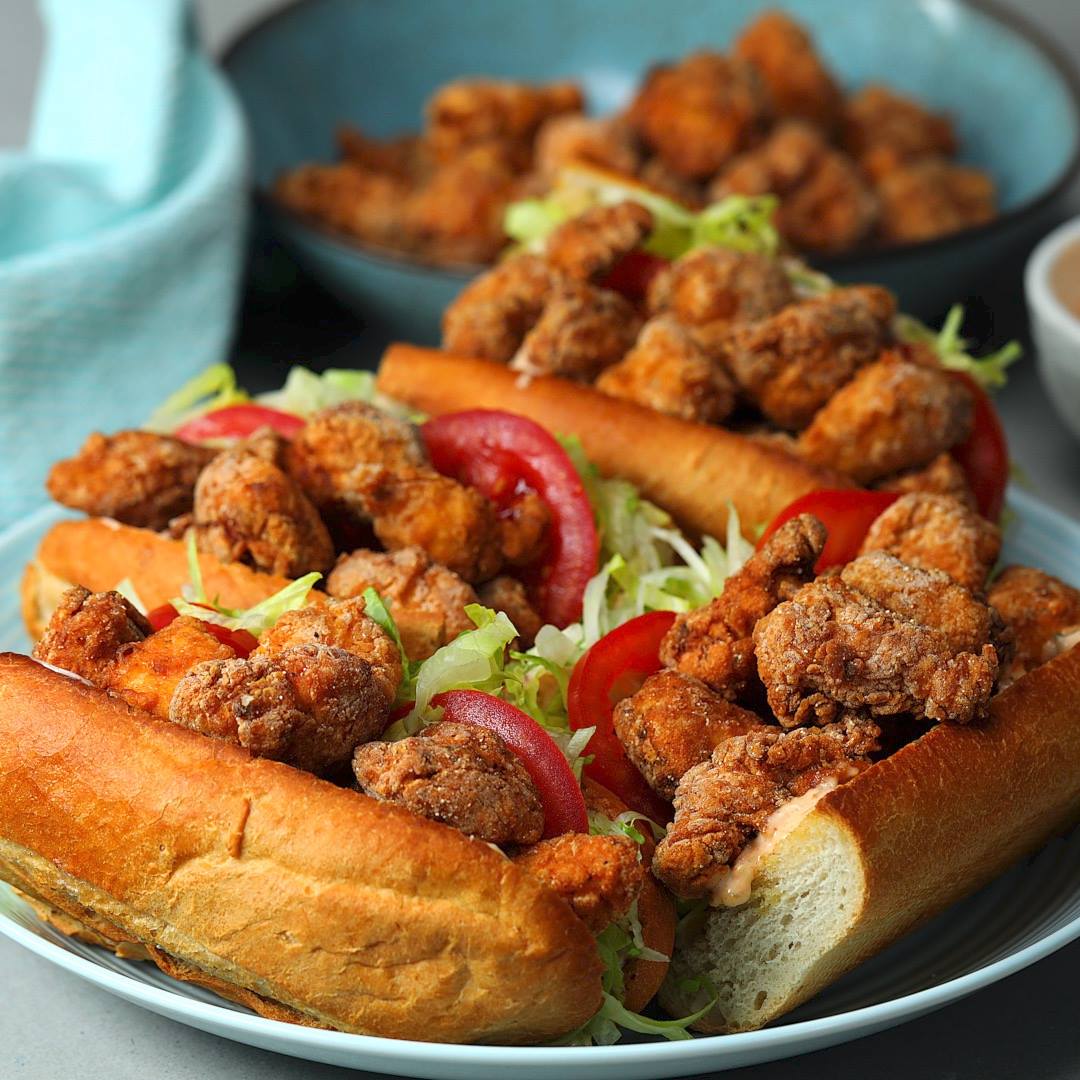 Ingredients
3 chicken breasts, diced into bite sized pieces
1 cup buttermilk
3 eggs
3 tbsp hot sauce
2 tbsp milk
2 cups four
½ cup corn meal
1 tsp paprika
1 tsp Garlic powder
½ tsp salt
½ tsp pepper
Oil for frying
1 cup mayonnaise
¼ tsp Mustard powder
¼ tsp cayenne pepper
¼ tsp paprika
1 tbsp finely chopped capers
1 tsp hot sauce
1 garlic clove, minced
½ tsp grated horseradish
1 tbsp Pickle juice
Baguette lightly toasted
Shredded lettuce
tomatoes
Instructions
Mix together chicken and buttermilk and let sit for 20 minutes. Then drain from buttermilk.
Mix together eggs, 3 tbsp hot sauce and milk. In a separate bowl mix together flour, corn meal, paprika, garlic powder, salt and pepper.
Dredge chicken pieces in flour mixture, followed by egg then back into the flour.
Repeat with remaining chicken and let sit for 10 minutes.
Fry chicken in oil at 175ºC in batched until golden brown and cooked through, about 3 minutes.
Meanwhile make the remoulade, mix together mayonnaise, mustard powder, cayenne pepper, paprika, capers, hot sauce, garlic, horseradish, and pickle juice.
Spread remoulade on the inside of the buns. Top with lettuce and some tomatoes
Top with fried chicken pieces, and serve with extra remoulade and hot sauce
Enjoy!
Watch the recipe video here:
Fried Chicken Po'boys

Posted by Twisted on Tuesday, August 14, 2018