Summertime Spaghetti with Grilled Meatballs
After Hurricane Sandy, we were without power for two weeks. I learned what you can make on a grill, such as these smoky meatballs and tomato sauce.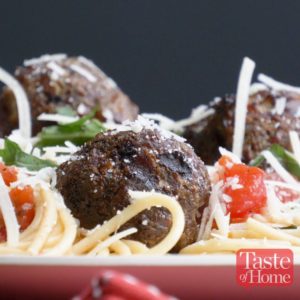 Ingredients
12 ounces uncooked spaghetti
MEATBALLS:
½ cup finely chopped onion
¼ cup seasoned bread crumbs
1 large egg
2 tablespoons grated Parmesan cheese
1 tablespoon 2% milk
½ teaspoon garlic powder
½ teaspoon onion powder
1 pound ground beef
TOMATO SAUCE:
2 pounds (4 to 5) large tomatoes, chopped
3 garlic cloves, minced
1 tablespoon olive oil
1 teaspoon sugar
¾ teaspoon salt
½ teaspoon dried oregano
½ teaspoon pepper
2 tablespoons minced fresh basil
TOPPING:
Instructions
Cook spaghetti according to package directions; drain.
Meanwhile, combine onion, bread crumbs, egg, Parmesan, milk and seasonings. Add beef; mix lightly. With wet hands, shape into 1-1/2-in. balls. Place meatballs on greased grill rack; grill, covered, over medium heat until cooked through, about 10 minutes.
For sauce, combine tomatoes, garlic, oil, sugar, salt, oregano and pepper in an 11x7x2-in. disposable foil pan. Grill over medium heat until sauce begins to simmer, about 10 minutes. Stir in basil.
Serve meatballs and sauce with spaghetti; top with shredded Parmesan.
Watch the recipe video here: