Beef Stew Gratin
This beef stew gratin is delicious ?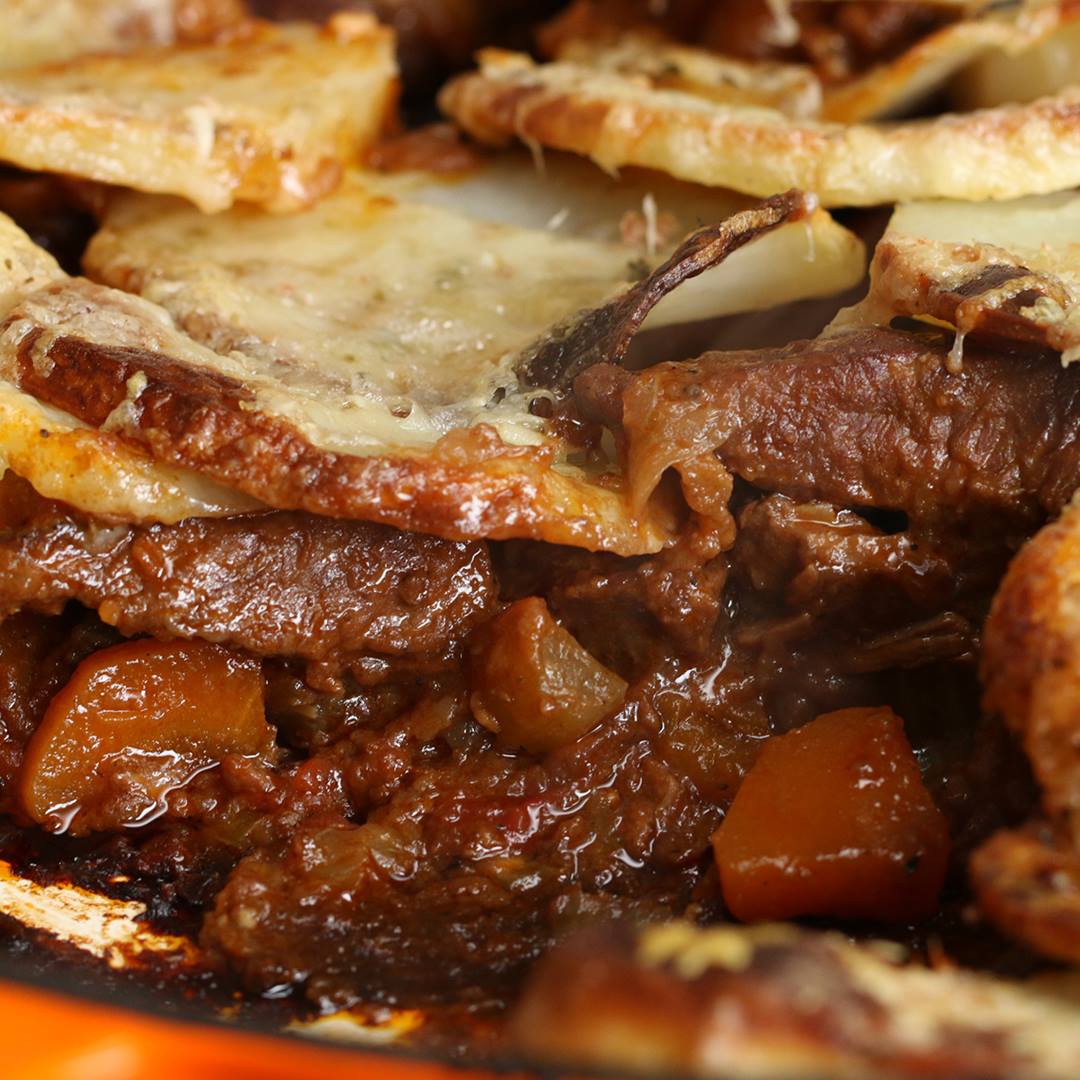 Ingredients
500 g (1 lb) diced beef
50 g (½ cup) plain flour
olive oil
1 onion, diced
2 carrots, diced
2 stems celery, diced
2 tablespoons tomato puree
2 cloves garlic, minced
1 pinch fresh rosemary
200 g (1 cup) chopped tomato
125 mL (½ cup) red wine
300 mL (1 ¼ cups) beef stock
2 large potatoes, thinly chopped
2 tablespoons butter, melted
salt, to taste
pepper, to taste
fresh thyme
50 g (½ cup) gruyère cheese, grated
Instructions
Preheat oven to 180°C (350˚F).
Add salt and pepper to the flour and use it to coat the diced beef. Brown off beef in a deep ovenproof pan with olive oil. Remove from pan.
Add more oil and fry the onions until translucent. Add the carrots and celery and fry for another 3-5 minutes. Add the garlic and fry for 2 minutes together with the beef.
Add in the tomato puree and rosemary and fry for a further 2-3 minutes. Add the chopped tomato and cook for 2 minutes.
Add the red wine and allow to reduce slightly. Add the beef stock and allow to reduce for 10 minutes.
Cover the pot with a lid and cook for 2 hours.
Remove and cover the top of the stew with thinly-chopped peeled potatoes, arranged so they are overlapping slightly.
Cover with melted butter, salt, pepper, and thyme and cook for a further 45 minutes at 200°C (400˚F) with the lid off.
Remove from oven once potatoes are cooked and cover with the grated gruyere. Grill on high for 5-10 minutes until cheese is bubbling.
Enjoy!
Watch the recipe video here:
This beef stew gratin is delicious ?RECIPE: https://tasty.co/recipe/beef-stew-gratin

Posted by Proper Tasty on Friday, May 25, 2018