Cowboy Butter Steak
Basting the steak with butter not only adds flavor, but helps develop a crust. Don't skip it!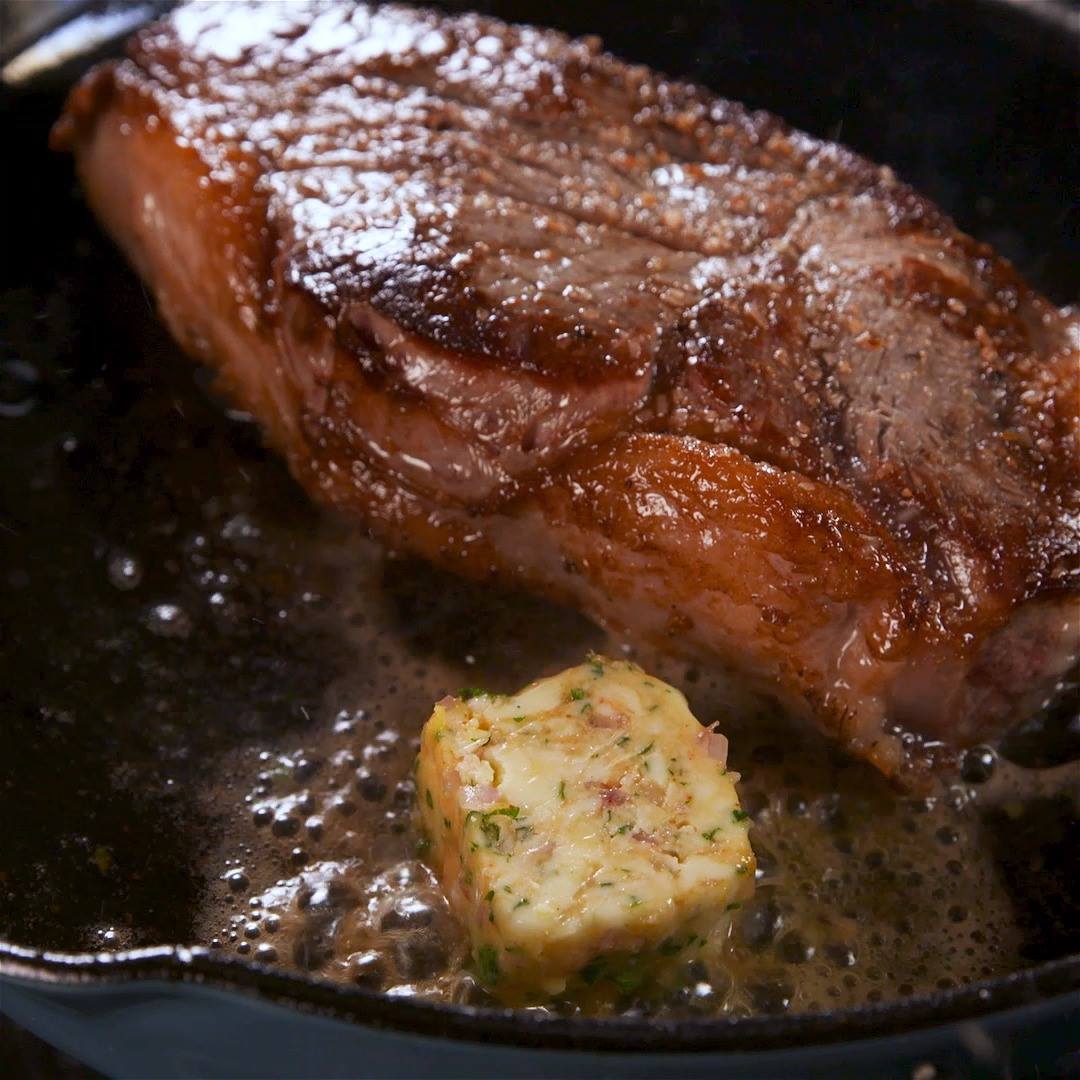 Ingredients
FOR THE STEAK
1 lb. Walmart Fresh Angus New York Strip Steak
Kosher salt
Freshly ground black pepper
FOR THE BUTTER
1 c. butter, softened
Zest of half a lemon
2 cloves garlic, minced
1 small shallot, minced
2 tbsp. dijon mustard
1 tbsp. prepared horseradish
¼ tsp. paprika
2 tbsp. freshly chopped parsley
1 tbsp. freshly chopped chives
Kosher salt
Freshly ground black pepper
FOR THE POTATOES
3 tbsp. vegetable oil, divided
1 lb. baby potatoes, quartered
Instructions
Remove steak from refrigerator and let come to room temperature, 30 minutes. Season all over with salt and pepper
Meanwhile, make cowboy butter: In a medium bowl, combine all cowboy butter ingredients and stir to combine. Season with salt and pepper.
Place on plastic wrap and form into a log. Refrigerate until firm, 30 minutes.
Heat 1 tbsp vegetable oil in a large cast iron skillet over medium heat. Add potatoes and cook, stirring occasionally, until fork tender, 6 to 8 minutes.
Drop approximately 1 tablespoon cowboy butter into potatoes and toss until butter is completely melted and potatoes are coated. Remove potatoes from skillet, wipe out pan, and return to heat.
Heat remaining vegetable oil until just beginning to smoke. Add steak and cook, flipping occasionally, until a golden crust begins to form on both sides of the steak, about 5 minutes.
Reduce heat to medium low and add approximately 2 tbsp cowboy butter to the pan. Using a kitchen towel, carefully grip the skillet handle and tilt towards you so that the melting butter forms a pool at the bottom of the skillet. Using a spoon, continually baste butter onto steak to form a deeper golden crust. Flip steak and repeat, 2 to 3 minutes in total. Using a meat thermometer, check for doneness: 120-125°F for medium rare, 130°F for medium.
Remove steak from skillet and place on cutting board to rest, 10 minutes. Slice and serve with potatoes, dotted with cowboy butter.
Watch the recipe video here: