Caramel Apple Hand Pies
Caramel Apple Hand Pies recipe.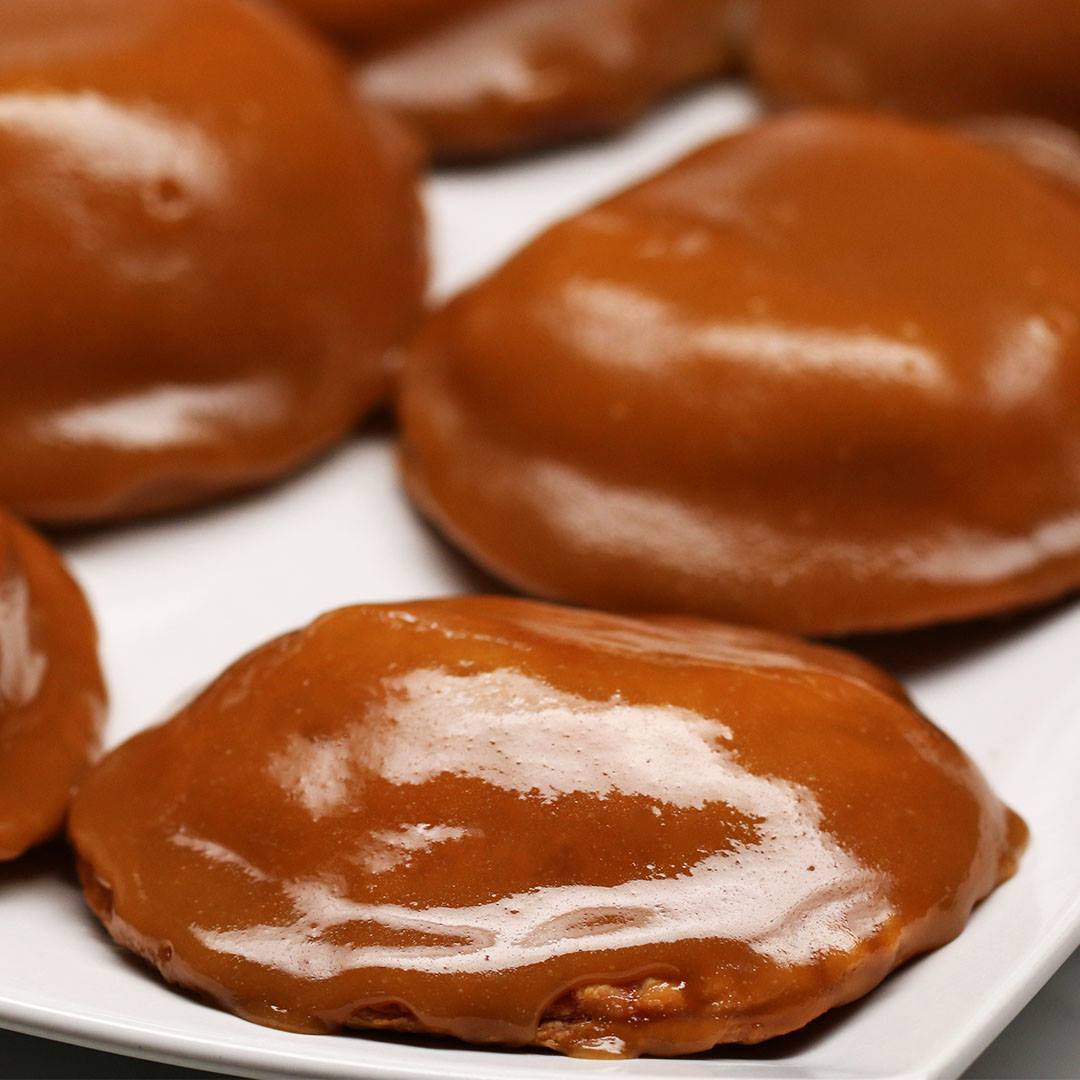 Ingredients
3 granny smith apples
½ cup granulated sugar (100 g)
2 tablespoons cornstarch
2 teaspoons cinnamon
½ teaspoon salt
2 shells pie dough, thawed and prepared
1 medium egg, beaten
¼ cup unsalted butter, ½ stick (60 g)
1 cup brown sugar (220 g)
1 teaspoon vanilla
½ teaspoon salt
¼ cup honey (85 g)
Instructions
On a cutting board peel and cut the apples into slices ¼-inch (6-mm) thick.
Place the apple slices in a medium bowl. Add the sugar, cornstarch, cinnamon, and salt. Mix until the apples are well-coated, then set aside until ready to use.
Preheat the oven to 400˚F (200˚C). Line a baking sheet with parchment paper.
Roll out one of the pie crusts. Use a 4-inch (10-cm) diameter glass or ramekin to cut 6 rounds from the dough. Repeat with the remaining crust so you have 12 dough circles total.
Place a few apple slices on top of one of the dough circles. Place another circle of dough on top, and seal the edges together. With a fork, crimp the edges and poke a few holes on the top of the hand pie. Repeat with the rest of dough and apples.
Transfer the hand pies to the baking sheet and brush with egg wash. Bake for 20 minutes, until golden. Let cool for 10 minutes.
In a small saucepan over medium heat, melt the butter with the brown sugar, vanilla, salt, and honey. Mix thoroughly until the caramel begins to bubble. Remove the sauce from the heat and pour into a small bowl for dipping.
Once the hand pies have cooled, dunk them face down into the caramel, let any excess drip off. Flip the hand pies right-side up so the caramel oozes down to the edges. Let cool for 2 minutes.
Enjoy!
Watch the recipe video here:
These caramel apple hand pies will satisfy your sweet tooth! ?FULL RECIPE: https://tasty.co/recipe/caramel-apple-hand-pies

Posted by Proper Tasty on Wednesday, June 13, 2018