Easy Cast-Iron Cheesy Asparagus Quiche
This cast-iron asparagus quiche recipe is a perfect easy, yet impressive breakfast. You'll sauté the asparagus, make the crust, and assemble and bake quiche all in one pan. It's yummy in your tummy and easy on the dishes.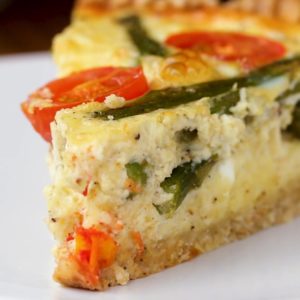 Ingredients
olive oil, to taste
1 bunch asparagus, trimmed and chopped into 3-in (7 cm) pieces
2 teaspoons kosher salt, divided
2 teaspoons freshly ground black pepper, divided
8 tablespoons unsalted butter
2 cups all-purpose flour (250 g)
½ teaspoon baking powder
¾ cup grated parmesan cheese, divided (80 g)
¼ cup cold water (60 mL)
6 large eggs
⅓ cup sour cream (75 g)
⅔ cup half & half (160 mL)
1 ½ cups shredded cheddar cheese (150 g)
1 cup cherry tomato, halved (200 g)
Instructions
Preheat the oven to 375˚F (190˚C).
Heat a drizzle of olive oil in a 10-inch (25 cm) cast-iron skillet over medium heat. Add the asparagus, ½ teaspoon salt, and ½ teaspoon pepper. Sauté for 5-6 minutes, until the asparagus is bright green but still firm. Turn off the heat. Transfer the asparagus to a bowl and set aside to cool.
Add the butter to the hot skillet and let it melt from the residual heat. Allow the pan to cool with the butter in it.
Once the cast iron is mostly cooled (warm to the touch is okay), add the flour, ½ teaspoon salt, 1 teaspoon black pepper, baking powder, and ½ cup Parmesan cheese, stirring with a spatula until the texture is sandy. Add the water and stir to combine. Using your hands, press the dough evenly over the bottom and about 2 inches (5 cm) up the sides of the pan. Use a fork to crimp the edges of the dough against the side of the pan. Set aside.
Add the eggs and sour cream to a medium bowl. Whisk to combine. Add the half-and-half, remaining teaspoon of salt, and remaining ½ teaspoon pepper and whisk until fully incorporated.
Scatter the cheddar cheese evenly over the crust. Arrange the asparagus over the cheese. Sprinkle the remaining ¼ cup (25 G) Parmesan evenly over the asparagus. Slowly pour the egg mixture into the skillet. Do not overfill. Top with the cherry tomatoes, cut sides up.
Carefully transfer the quiche to the oven and bake for 45-50 minutes, until the center is set and the edges are golden. Let cool for at least 30 minutes before serving.
Serve the quiche straight from the pan. Note: Use a spatula to cut, instead of a knife, so as not to scratch your pan.
Enjoy!
Watch the recipe video here: