Instant Pot Melting Potatoes
You've seen the Internet-famous "melting potatoes;" now here's how to do them in your Instant Pot—i.e. without cranking your oven up to 500°. Buttery, creamy, perfectly salty Instant Pot Melting Potatoes make for a divinely decadent celebration of potato—no cream or cheese necessary. If you want to double the recipe, you'll need to brown your potatoes in batches, but can steam them all together. Feel free to garnish with a sprinkling of whatever herbs you desire; parsley, sage, or rosemary are all great options.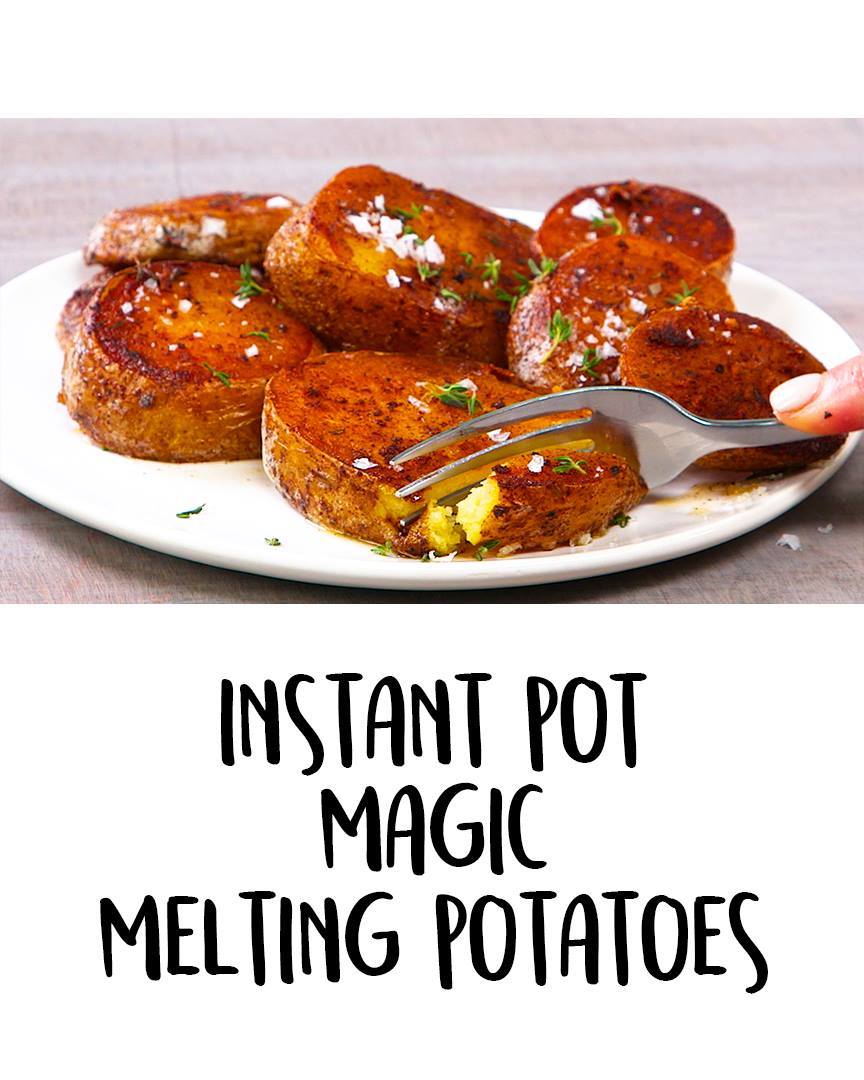 Ingredients
6 Tbsp. (3 oz.) unsalted butter
1 tsp. kosher salt
½ tsp. black pepper
2 Tbsp. fresh thyme leaves, divided
1 lb. Yukon Gold potatoes, cut into
¾- to 1-in. slices
2 garlic cloves, peeled and lightly crushed
½ cup unsalted chicken stock
½ tsp. flaky sea salt (such as Maldon)
Instructions
Turn an Instant Pot onto the "sauté" setting. Add butter, salt, pepper, and 1 tablespoon of the thyme; cook until starting to foam, about 2 minutes. Add sliced potatoes in an even layer, and cook until browned on both sides, about 5 minutes per side (the butter will start to brown). Remove potatoes from Instant Pot, and set aside.
Add garlic to the Instant Pot. Place the grate insert (or a trivet or steamer basket) inside Instant Pot. Lay potatoes on grate, and pour chicken stock over potatoes. Cover Instant Pot, and set to 1 minute on High pressure, making sure steaming valve is closed (this will take about 10 minutes to come up to pressure). When done, carefully open steaming valve, and allow steam to fully escape from Instant Pot, about 2 minutes. Remove grate and potatoes from pot, and set aside, leaving liquid in pot.
Return Instant Pot to "sauté" setting, and cook butter and chicken stock until slightly reduced, about 2 minutes; remove garlic. Add potatoes back to pot in a single layer, and cook again until browned on both sides, about 3 minutes per side. Remove from Instant Pot, and sprinkle with flaky sea salt and remaining thyme. Serve immediately.
Watch the recipe video here:
Buttery, creamy, perfectly salty—you don't even need cream. (via Well Done) GET THE RECIPE: https://trib.al/rSIBGMI

Posted by MyRecipes on Monday, March 18, 2019