Pull-Apart Cheesy Garlic Loaf
It can get tricky to hold the bread together when making the second set of cuts. Just do your best and plop any loose pieces back into place. Check out more recipes from Tartine here.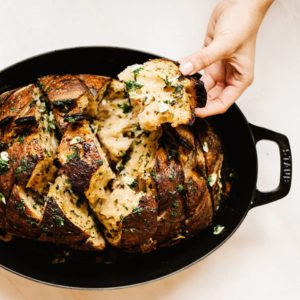 Ingredients
1 head of garlic, plus 4 cloves, finely grated
1 tablespoon olive oil
1 loaf country-style bread (about 2 pounds)
½ cup (1 stick) unsalted butter
2 tablespoons chopped parsley
1 teaspoon chopped rosemary
1 teaspoon chopped thyme
1 teaspoon kosher salt
1 teaspoon freshly ground black pepper
10 ounces white cheddar, grated (about 3 cups)
Instructions
Preheat oven to 400°. Cut top ½" off garlic bulb so that tops of cloves are exposed. Place on a square of foil and drizzle with oil, making sure as much as possible gets inside. Bring up foil around garlic to make a tight packet and bake until cloves are soft, 20–25 minutes. Transfer garlic bulb (still in packet!) to a foil-lined rimmed baking sheet, placing to one side (you want to leave room for the bread).
Slice bread across the top in a 1" crosshatch pattern, cutting most of the way through but leaving the bottom crust intact.
Melt butter in a small saucepan over medium; remove from heat. Add grated garlic and swirl pan to gently warm the garlic. Add parsley, thyme, rosemary, salt, and pepper and swirl pan to combine everything.
Brush top and cut sides of bread with butter, working down into crevices. Sprinkle cheese over loaf, making sure some gets in between the cuts as well as on top.
Set the loaf on baking sheet with garlic. Bake loaf until cheese is melted, 18–20 minutes. Unwrap garlic and serve with cheesy loaf.
Do Ahead:
Bread can be assembled 3 days ahead. Wrap tightly and chill.
Watch the recipe video here: