Creamy Garlic Parmesan Crispy Chicken Salad
Creamy Garlic Parmesan Crispy Chicken Salad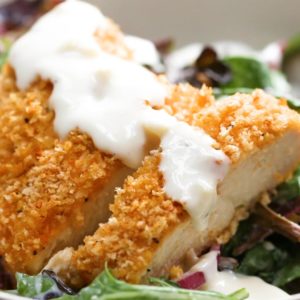 Ingredients
CHICKEN
1 ½ cups panko breadcrumbs (75 g)
¼ cup parmesan cheese, grated (30 g)
1 teaspoon salt, plus more for taste
1 teaspoon pepper, plus more for taste
1 teaspoon paprika
1 teaspoon garlic powder
2 chicken breasts
1 cup all purpose flour (125 g)
3 large eggs, beaten
2 tablespoons olive oil
DRESSING
⅔ cup sour cream (155 g)
⅓ cup buttermilk (80 mL)
¼ cup parmesan cheese, grated (30 g)
1 tablespoon garlic, minced
1 tablespoon lemon juice
1 tablespoon apple cider vinegar
1 tablespoon olive oil
salt, to taste
freshly ground black pepper, to taste
SALAD
16 oz mixed greens (455 g)
2 cups mixed cherry tomato, halved (400 g)
½ red onion, thinly sliced
Instructions
Preheat the oven to 425˚F (220˚C).
In a medium bowl, combine the panko bread crumbs, Parmesan cheese, salt, pepper, paprika, and garlic powder. Mix together with a fork.
Season the chicken breasts on both sides with pepper and salt to taste.
Add the flour and eggs to 2 separate medium bowls. Dip the chicken breasts in the flour and shake off the excess. Then, dip in the eggs. Finally, dip in the bread crumb mixture. Make sure the chicken is well-coated.
Place the chicken breasts on a baking sheet and drizzle with the olive oil.
Bake for 25 minutes, or until deep golden brown and a meat thermometer inserted in the thick part of a breast registers at least 165˚F (75˚C).
While the chicken is cooking, make the dressing: In a liquid measuring cup or small bowl, combine the sour cream, buttermilk, Parmesan, garlic, lemon juice, apple cider vinegar, olive oil, salt, and pepper. Stir to combine. If you prefer a thinner dressing, add a few more splashes of buttermilk.
To assemble the salad, add the mixed greens, cherry tomatoes, and red onion to a large bowl. Drizzle about ½ the dressing over the salad and toss to combine.
Slice the chicken, then serve on top of the salad and drizzle with more dressing.
Enjoy!
Watch the recipe video here:
Give me panko crumbs and I'll love you forever ?FULL RECIPE: https://tasty.co/recipe/creamy-garlic-parmesan-crispy-chicken-salad

Posted by Tasty on Monday, April 22, 2019