Giant Croque Monsieur Roll
Outlandish? Check. Cheesy? Check. While we at Twisted do know what you, our fans, love, we do strive to push the boat out with a few dishes every now and then. We are therefore proud (if mildly bemused) to bring you one of our strangest ideas yet, the Croque Monsieur Toast Roll.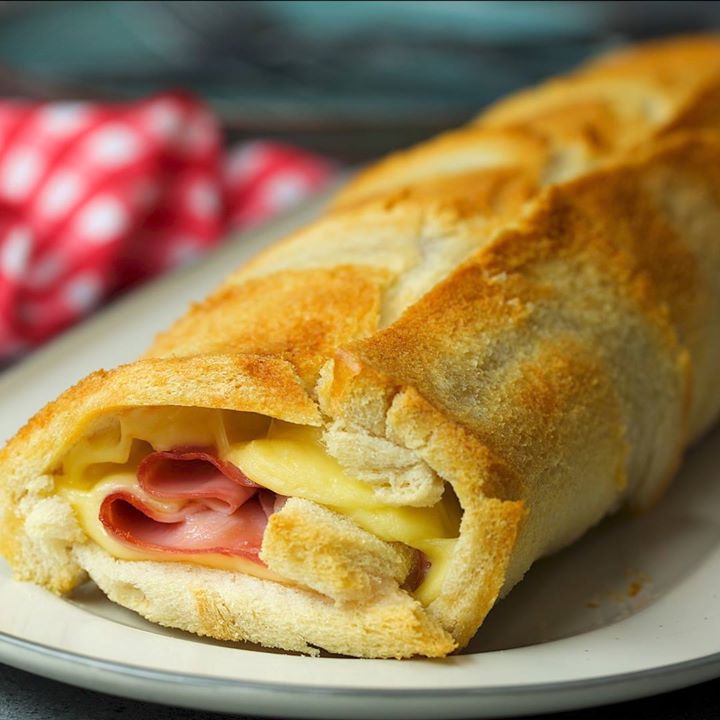 Ingredients
50g butter
50g flour
350ml milk
1½ tbsp dijon mustard
1 tsp salt
1 tsp pepper
¼ tsp nutmeg
12 slices white bread
12 slices emmental
17 slices thin cut ham
2 tbsp melted butter
Instructions
Preheat the oven to 180°C/360°F
In a large saucepan heat the butter until foaming, then add the flour and quickly stir to make a paste. Gradually pour in the milk, stirring to incorporate it, until you have a smooth sauce. Stir in the mustard, salt and pepper and set aside.
Cut the crusts off the bread and lay it in a square on baking paper with each side overlapping. Use a rolling pin to roll the whole thing out, pressing the edges together to stick them. If you find this isn't working then use an equal mixture of flour and water and paint it along the joins to help stick.
Spread the bechamel on the bread and then top with a layer of cheese and ham. Use the edge of the paper to roll the whole thing up.
Place on a lined baking tray and brush with butter, then bake for 40 minutes until the outside is golden and toasty.
Watch the recipe video here:
Giant Croque Monsieur Roll

Posted by Twisted on Wednesday, May 23, 2018