Spaghetti and Meatball Nests
Turn your home into a fancy Italian restaurant with your very own spaghetti nest topped with a large meatball.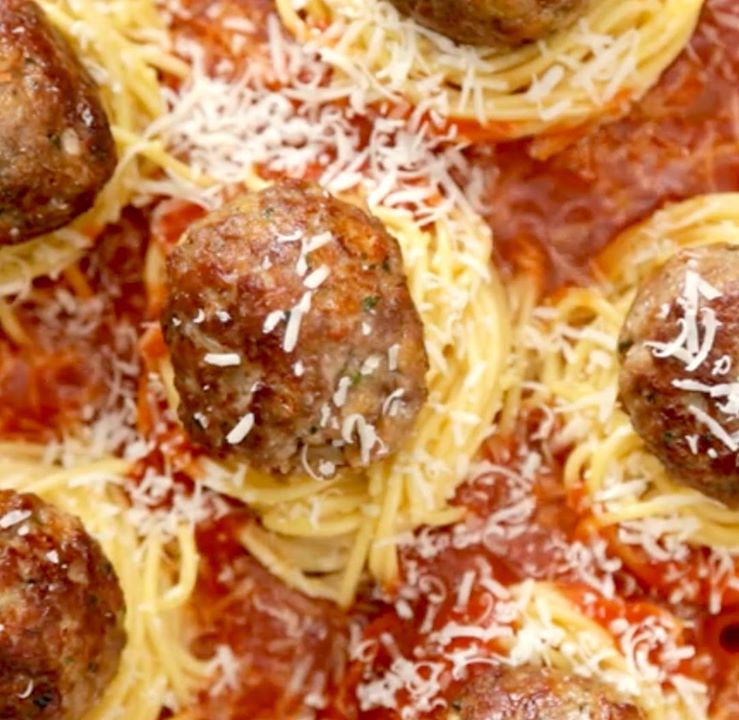 Ingredients
Meatballs:
½ pound ground beef
1 shallot, minced
2 cloves garlic, minced
¼ cup plain breadcrumbs
2 tablespoons finely grated Parmesan cheese
1 large egg, beaten
1 tablespoon flat leaf parsley, finely chopped
Kosher salt and freshly ground black pepper
Spaghetti:
8 ounces dry spaghetti
1 large egg, beaten
¼ cup finely grated Parmesan cheese
3 tablespoons olive oil, divided
1¾ cups marinara sauce
½ cup water
Parmesan cheese, for finishing
Instructions
@For the meatballs:
In a medium bowl, combine the beef, shallots, garlic, breadcrumbs, cheese, egg, parsley, salt and pepper. Form into 6 (1-inch) balls. Set aside.
For the pasta:
Bring a large pot of salted water to a boil.
Add the pasta and cook until al dente, about 7 minutes. Drain and cool.
Once cool, add the spaghetti to a large bowl and toss with egg and cheese until combined. Twist the spaghetti into 6 nests using a fork and a ladle. Let rest in the refrigerator as you prepare the meatballs.
In a 12-inch high-sided skillet over medium heat, add 2 tablespoons olive oil. Add meatballs and brown on all sides. Remove meatballs from pan.
Wipe the pan clean and add the remaining tablespoon of oil. Very carefully add each "nest" then turn the heat to medium. Cook for 2 minutes so the nests hold their shape. Add a browned meatball to the center of each nest.
Mix together the water and marinara sauce until smooth. Pour the sauce between the nests. Grate cheese over the top. Cover with lid and cook for 10 minutes over medium heat.
To serve, add each nest to a plate and garnish with freshly grated Parmesan cheese.
Watch the recipe video here:
My head says gym, but my heart says pasta. Full Recipe: bit.ly/2FrZ55P

Posted by Tastemade on Monday, February 26, 2018