Brussels Sprouts Hash
Give brussels sprouts the respect they deserve.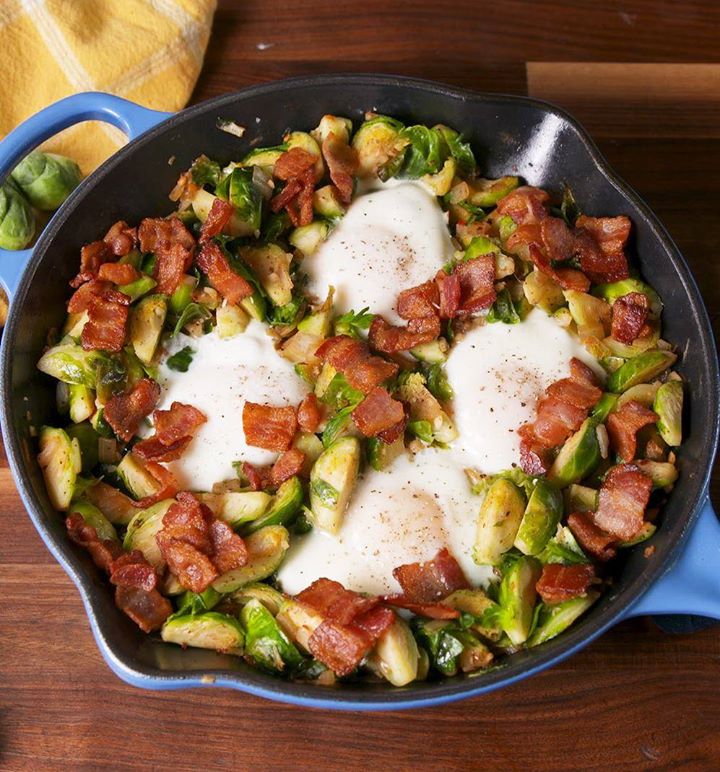 Ingredients
6 slices bacon, cut into 1" pieces
½ onion, chopped
1 lb. brussels sprouts, trimmed and quartered
kosher salt
Freshly ground black pepper
¼ tsp. red pepper flakes
2-3 tbsp. water
2 garlic cloves, minced
4 large eggs
Instructions
In a large skillet over medium heat, fry bacon until crispy. Turn off heat and transfer bacon to a paper towel-lined plate. Keep most of bacon fat in skillet, removing any black pieces from the bacon.
Turn heat back to medium and add onion and brussels sprouts to the skillet. Cook, stirring occasionally, until the vegetables begin to soften and turn golden. Season with salt, pepper, and red pepper flakes.
Add 2 tablespoons of water and cover the skillet. Cook until the Brussels sprouts are tender and the water has evaporated, about 5 minutes. (If all the water evaporates before the Brussels sprouts are tender, add more water to the skillet and cover for a couple minutes more.) Add garlic to skillet and cook until fragrant, 1 minute.
Using a wooden spoon, make four holes in the hash to reveal bottom of skillet. Crack an egg into each hole and season each egg with salt and pepper. Replace lid and cook until eggs are cooked to your liking, about 5 minutes for a just runny egg. Sprinkle cooked bacon bits over the entire skillet. Serve warm.
Watch the recipe video here: