Jalapeno Popper Burger Taquitos
Fusion cuisine at its finest. Satisfyingly crunchy, full of burger flavours and wonderful oozy cream cheese. And some other cheese. We love cheese!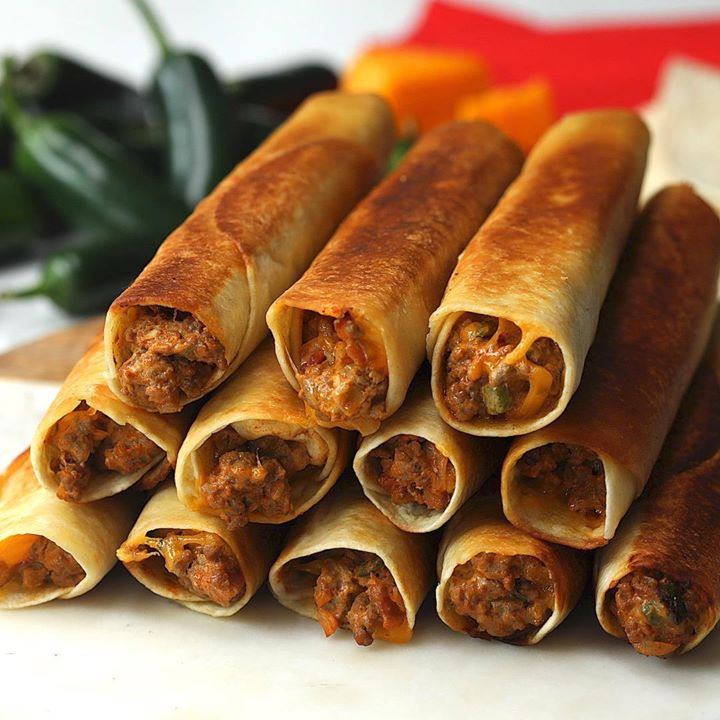 Ingredients
1 tbsp oil
6 rashers bacon
1 onion, finely diced
3 cloves garlic, finely diced
4 jalapenos, finely diced
2 lb beef mince
1 tbsp paprika
1 tsp garlic powder
1 tsp salt
8 oz cream cheese
10 regular tortillas
Grated red cheddar
Instructions
Heat the oil and fry the bacon until it's looking crispy, dark and golden. Add the onion and cook for around 3 minutes, until soft.
Add the garlic and cook for a further 30 seconds or so then add the diced jalapenos and the beef mince, then stir in the spices and seasoning and the cream cheese. Allow the mixture to cool a little then spoon it onto the tortillas, sprinkle with cheese and roll up tightly.
Fry in batches in hot oil until the taquitos are golden brown and crispy.
Enjoy!
Watch the recipe video here: