S'mores Brownies
No campfire is required for this brownie cake made with layers of graham cracker crumble, chocolate brownie and torched meringue.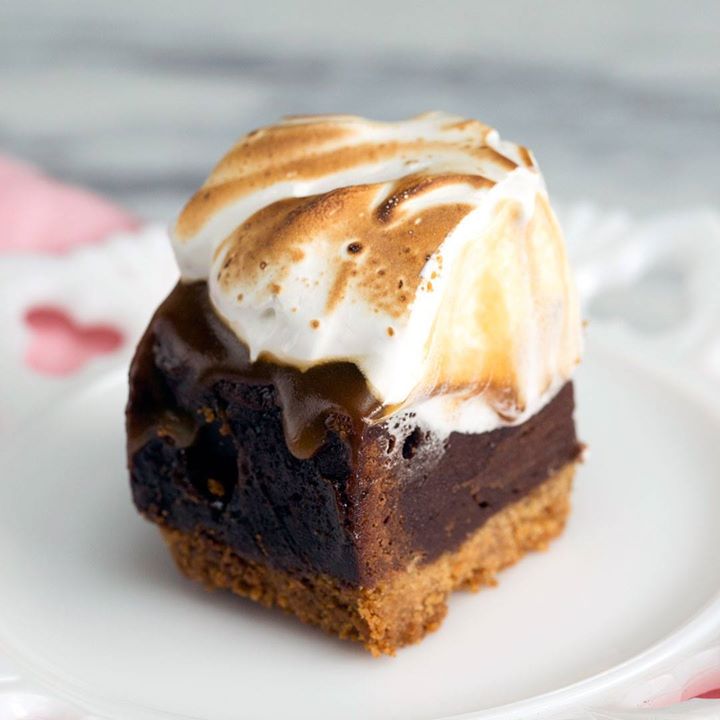 Ingredients
Graham cracker crust:
2 cups graham cracker crumbs
½ cup butter, melted
Brownies:
4 eggs, beaten
½ cup brown sugar
1½ cups granulated sugar
1 tablespoon vanilla extract
12 ounces semisweet chocolate chips
1 cup butter, softened
2¼ cups all-purpose flour
Caramel sauce:
1 cup sugar
6 tablespoons butter, cubed
½ cup heavy cream
½ teaspoon salt
Meringue topping:
8 egg whites
½ teaspoon cream of tartar
2 cups sugar
2 teaspoons vanilla extract
Instructions
For the graham cracker crust: Preheat oven to 350 degrees. Line a 9x9 baking dish with parchment paper and spray with cooking spray.
Add graham cracker crumbs to a bowl and top with melted butter. Stir until combined. Press into prepared pan and bake for 10 minutes. Remove from oven and set aside.
For the brownies: In a large bowl, add eggs, sugars and vanilla. Stir until combined.
Heat chocolate in a double boiler on medium-low heat. When chocolate is almost fully melted, add butter and stir until fully combined and smooth. Remove from heat and stir into sugar mixture. Once combined, fold in flour and mix until smooth and fully combined. Pour mixture on top of graham cracker crust and bake 40 minutes. Remove from oven and let cool.
For the caramel: Heat sugar in a medium saucepan over medium heat, stirring constantly. Sugar will melt, get thick and turn a brown amber color. Once completely melted, add the butter. Stir until butter is completely melted, about 3 minutes. Slowly stream in cream and boil for 1 minute. Remove from heat and stir in salt.
Pour caramel over brownies, let cool and transfer to the fridge to chill for at least 2 hours.
For the meringue topping: In the bowl of a stand mixer, add egg whites, cream of tartar and sugar.
Bring a pot of water to a low simmer and place the bowl over the saucepan. Slowly whisk until whites are warm to the touch. Add bowl to stand mixer. Using the whisk, beat on high until stiff peaks form. Add vanilla and stir until combined. Spoon mixture over set caramel. Using a kitchen torch, lightly brown the meringue. Slice into squares and serve.
Watch the recipe video here:
Campfire: not required, for these decadent, fudgy caramel s'more brownies.Full Recipe: bit.ly/2CmmTJw

Posted by Tastemade on Monday, February 26, 2018