Baileys Ice Cream Sandwiches
No one will be left blowing hot and cold after tasting these new sweet treats from Baileys. Featuring layers of gooey baked brownie, sandwiching booze infused vanilla ice cream, this is one dessert determined to ruin diets everywhere. Stand aside sorbet and move over meringues. Summer just found a new best friend.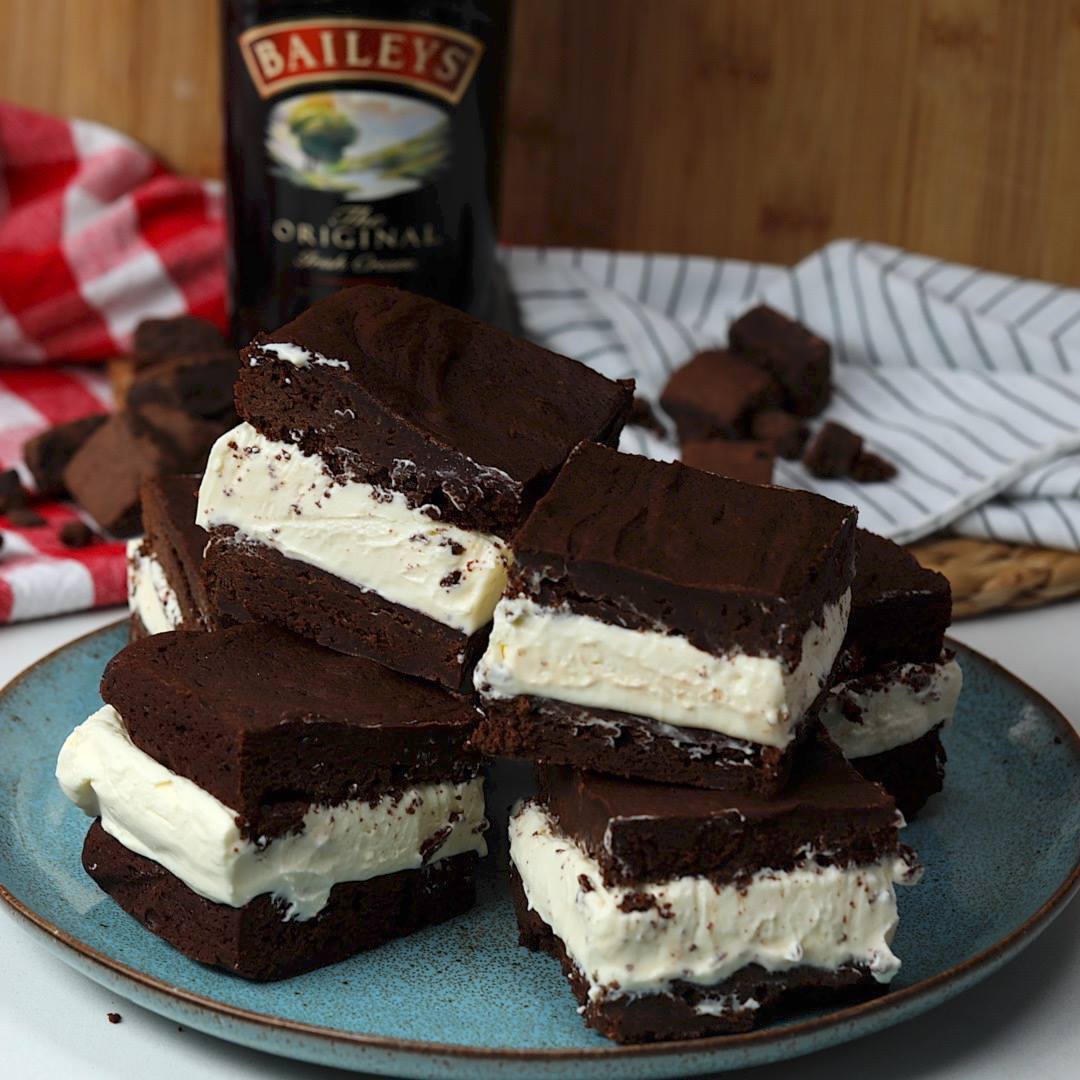 Ingredients
Ice Cream:
360ml heavy cream
10ml vanilla essence
120ml Baileys
1 can sweetened condensed milk
Brownies:
300g chopped dark chocolate
300g melted butter
150ml Baileys
5 eggs
400g sugar
150ml Baileys
130g self-raising flour
½ cup/70g plain flour
¾ cup/80g cocoa
Instructions
In a large bowl, whisk together cream, vanilla and Baileys until soft peaks are formed. Fold in one can of condensed milk.
Pour mixture into a lined 9x9 brownie tray, spread flat and freeze over night until set.
To make the brownies, pour the melted butter over the chocolate and stir to combine, then pour in the Baileys and stir again. Set aside to cool slightly.
Whisk the eggs until they foam up and then add the sugar and keep whisking for a minute or so. Pour in the cooled chocolate mixture and stir together then sift in all the dry ingredients and fold everything through.
Pour the mixture into two lined 9x9 brownie trays and spread out.
Bake for 15-20 min.
When the brownie layers are completely cool remove from the tin. Top one with the ice cream layer. Place second brownie layer on top. Transfer to freezer for 4 hours.
When completely frozen transfer to a cutting board and slice into 2x4-inch sandwiches
Keep frozen until ready to serve
Enjoy!
Watch the recipe video here:
Baileys Ice Cream Sandwiches

Posted by Twisted on Thursday, May 24, 2018