No-Bake Chocolate Cherry Cheesecake
Topped with chocolate chips, cherries and jello, this dessert is packed with sweet goodness.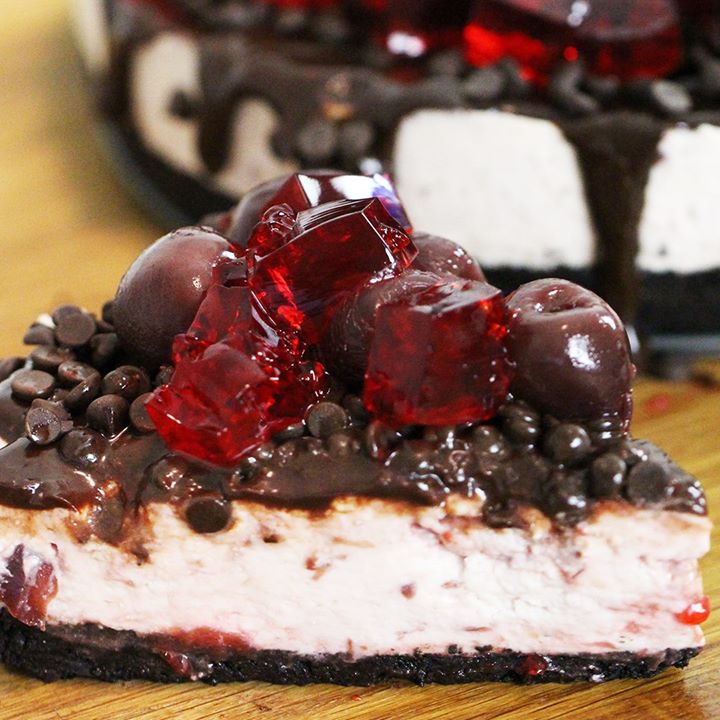 Ingredients
Base:
200 grams chocolate wafers, crushed to a fine crumb
65 grams unsalted butter, melted
Cheesecake Filling:
400 grams cream cheese, room temperature
400 milliliters whipping cream
80 grams sugar
¼ cup lemon juice
1 teaspoon vanilla extract
5 tablespoons cherry jam
½ cup fresh cherries, roughly chopped
2 teaspoons powdered gelatin
2½ tablespoon water
Topping:
1 packet cherry jello powder
1 cup hot water
½ cup cold water
¼ cup whipping cream, hot
¾ cup chocolate chips, melted + extra (unmelted) for decorating
Fresh cherries
Instructions
First, make the base of the cheesecake. Mix together the melted butter and crumbled chocolate wafers, then press them into the bottom of an 8-inch spring form pan. Then place this in the fridge while you make the filling.
To make the filling, place the cream cheese in a bowl and with an electric mixer until smooth. Add the sugar and combine. Then add the whipping cream, lemon juice, vanilla extract, cherry jam and fresh cherries and mix until smooth. Mix together the gelatin and water in a small bowl and microwave for 30 seconds. Add the gelatin to the filling, and mix together with an electric mixer until fully combined.
Pour the filling into the cake pan and return to the fridge to chill until set (approx. 3 hours).
Make the topping by combining the whipping cream and melted chocolate chips in a bowl. Allow this to cool until it is room temperature, but still liquid. In a separate bowl add the cherry jello and hot water, then mix together before adding the cold water. Refrigerate until set.
Carefully remove the cake from the spring form pan by running a sharp knife around the edges of the cake, then release the sides of the pan and carefully slide off the cake.
Spread the topping over the surface of the cheesecake, allowing some to drip off the sides. Top with extra chocolate chips, fresh cherries and cherry jelly and enjoy!
Watch the recipe video here: