Ruby Grape Pie
My wife, Paula, and I produce red and green seedless table grapes on our 75-acre vineyard. Our crop is wonderful eaten out-of-hand or in salads. Paula also uses them in this unusual and tasty pie.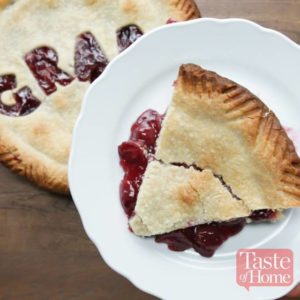 Ingredients
4 cups halved seedless red grapes (about 2 pounds)
⅔ cup sugar
½ teaspoon ground cinnamon
3 tablespoons cornstarch
2 tablespoons lemon juice
1 tablespoon grated lemon zest
Pastry for double-crust pie (9 inches)
2 tablespoons butter
Instructions
In a large saucepan, combine grapes, sugar and cinnamon; toss to coat. Let stand for 15 minutes. Combine cornstarch, lemon juice and zest; stir into grape mixture. Bring to a boil; cook and stir for 2 minutes or until thickened.
Line a 9-in. pie plate with bottom crust. Pour grape mixture into crust. Dot with butter. Place remaining crust over filling. Trim, seal and flute edges; cut slits in top. Cover edges loosely with foil.
Bake at 425° for 20 minutes. Reduce heat to 350° remove foil and bake 30-35 minutes longer or until the crust is golden brown. Cool on a wire rack.
Watch the recipe video here: