Blueberry Bombs
A blue chocolate shell encases a sweet blueberry and whipped cream surprise.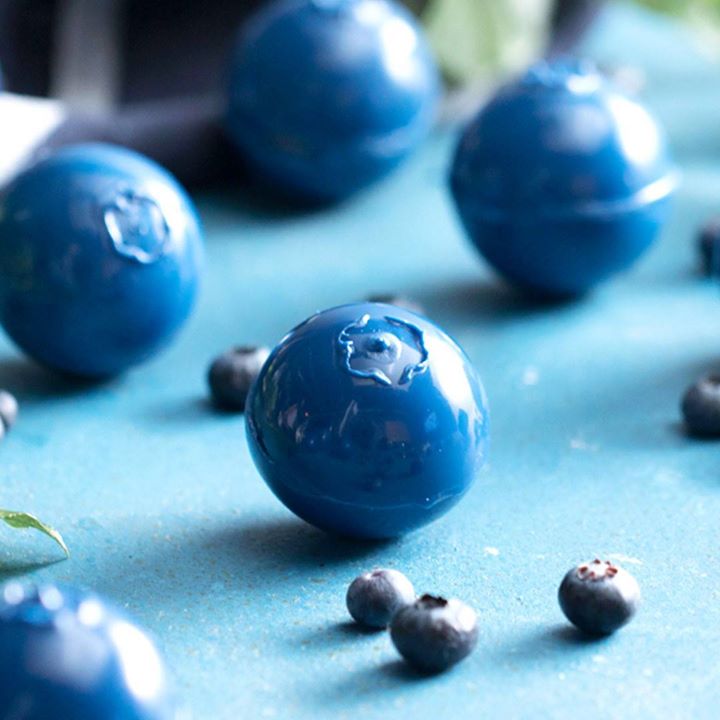 Ingredients
For the blueberry gelee:
1 (1/4-ounce) packet powdered gelatin
¼ cup water
1½ cups blueberries
1 tablespoon honey
2 tablespoons sugar
2 teaspoons fresh lemon juice
For the blueberry shell:
3 cups blue tinted chocolate wafers
For the whipped cream:
2 cups heavy cream
1 cup powdered sugar
1 teaspoon vanilla
Instructions
Sprinkle the powdered gelatin over the water and let stand for 5 minutes.
In a small saucepan, bring the blueberries, honey, sugar and lemon juice to a boil over medium heat. Reduce heat and simmer until the sugar is dissolved. Add the gelatin water and stir until dissolved, about 3 minutes. Let cool slightly then pour into ¾-inch round silicone half sphere molds. Refrigerate for one hour.
Melt the blue chocolate wafers and pour into the bottom and sides of 2-inch round silicone molds. Allow to set slightly then tip molds upside down to pour out excess. Place in the refrigerator for about 10 minutes to set.
Meanwhile, mix the heavy cream and sugar in the bowl of a stand mixer, starting with low speed and working up to medium-high. Whip the cream until stiff peaks form then fold in vanilla.
Fill the chocolate shells two-thirds of the way with the whipped cream and top with a mini round of blueberry gelee. Place in the freezer to set for about 1 hour.
Unmold the halves. Pipe a ring of blue chocolate around the outer shell and attach two halves then press them together. Dip a tiny flower cookie cutter into some melted blue chocolate and create the top of the blueberry shape by pressing gently on the center top of the blueberry. Let them rest at room temperature for 15 minutes then serve.
Watch the recipe video here:
These blueberries are ripe for the eating.Full Recipe: taste.md/2GsqSTN

Posted by Tastemade on Tuesday, January 30, 2018