Samoa Pie
Dig into a slice of chocolate-caramel goodness.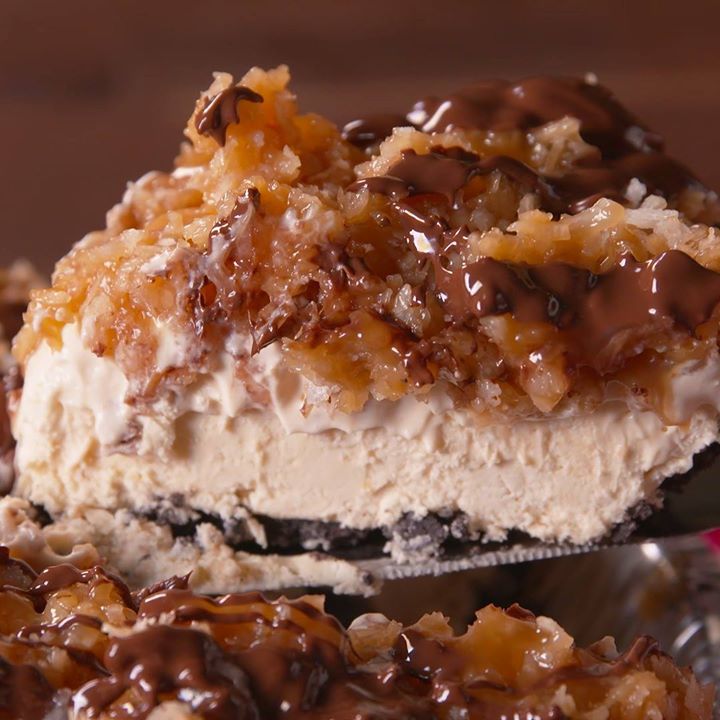 Ingredients
8 oz. cream cheese, softened
¼ c. sugar
¼ c. powdered sugar
2 c. caramel, divided, plus more for drizzling
2 c. heavy cream
1 store-bought pie crust (shortbread or chocolate)
1 c. sweetened shredded coconut, toasted
Melted chocolate, for drizzling
Instructions
In the bowl of a stand mixer or in a large bowl using a hand mixer, beat cream cheese, sugar, powdered sugar, and ½ cup caramel until fluffy and combined. Add heavy cream and beat until medium peaks form.
Add mixture to pie crust and smooth top. Refrigerate pie until firm, 6 hours.
Before serving, make topping: In a small bowl, mix together coconut and 1 cup caramel until combined.
Spread remaining ½ cup caramel on top of chilled pie, then top with coconut mixture, pressing down to make an even layer.
Lightly drizzle with more caramel and melted chocolate and serve.
Watch the recipe video here:
Samoa Pie is even better than the Girl Scout cookie. Full recipe: http://dlsh.it/cpmh7Md

Posted by Delish on Wednesday, September 13, 2017