Banana Pudding Cake
This one is a stunner.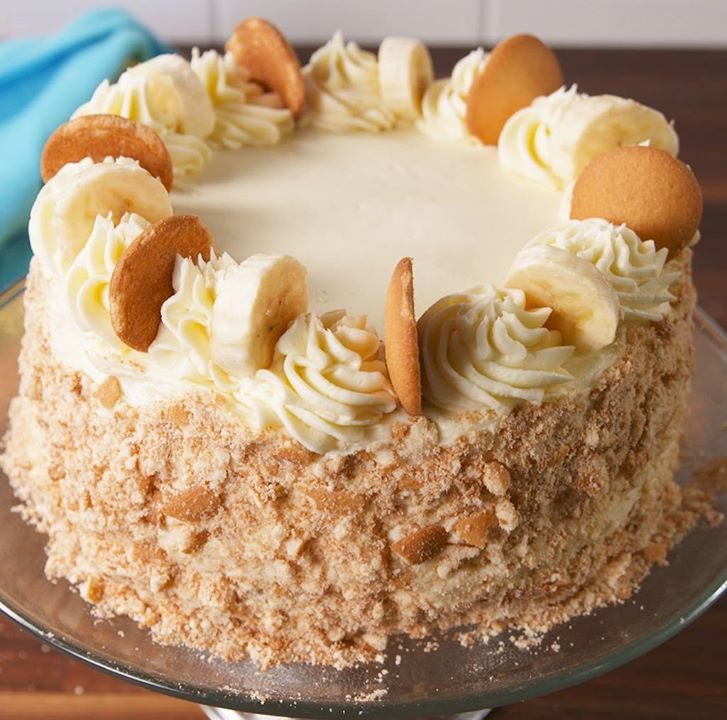 Ingredients
1 box vanilla cake mix, plus ingredients called for on box
1 (3.4 oz) box vanilla pudding
2 c. cold milk
½ c. cool whip
2 Bananas, sliced
1½ c. butter, softened
5 c. powdered sugar
2 tsp. pure vanilla extract
¼ c. plus 2 tbsp. heavy cream
1 c. crushed Nilla wafers
Whole Nilla Wafers, for garnish
Instructions
Preheat oven to 350°. Line two round 9" cake pans with parchment paper and grease with cooking spray. Prepare cake mix according to package instructions. Divide batter between cake pans and bake until a toothpick inserted into the center comes out clean, 25 to 30 minutes. Let cakes cool for 10 minutes in pans then invert onto wire racks to cool completely.
Make pudding: In a large bowl, combine milk and pudding mix and stir until thickened, about 5 minutes. Fold in Cool Whip.
Make butterceam: In a large bowl using a hand mixer, combine butter, 3 cups powdered sugar, and vanilla. Beat until light and fluffy. Add remaining sugar and heavy cream and beat until smooth.
Assemble cake: Using a serrated knife, cut off the rounded top of each cake to level. Top one cake with a thick layer of pudding then top with most banana slices. (Reserve some to garnish.) Place second cake on top and frost entire cake with buttercream, reserving about 1 cup to pipe on top. Press crushed Nilla wafers around the sides of the cake.
Transfer remaining buttercream to a piping bag fitted with a large star tip and pipe large swirls around the top of the cake. Decorate with Nilla wafers and more banana slices.
Watch the recipe video here:
How To Make Banana Pudding Cake

Banana Pudding Cake is the birthday cake you'll request year after year AFTER YEAR.Full recipe: http://dlsh.it/8ZwD3wJ

Posted by Delish on Tuesday, February 13, 2018