Patriotic Dessert
I took this patriotic dessert to a luncheon and came home with dozens of requests for the recipe! It was quite a success. People told me it looked as good as it tasted.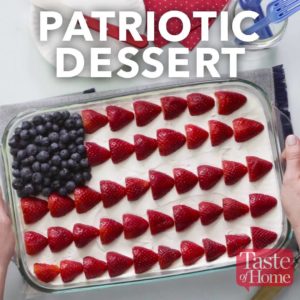 Ingredients
1 cup all-purpose flour
1 cup finely chopped pecans
½ cup butter, softened
1 package (8 ounces) cream cheese, softened
1 cup confectioners' sugar
1 carton (8 ounces) frozen whipped topping, thawed, divided
1-1/2 cups cold milk
1 package (5.1 ounces) instant vanilla pudding mix
3 cups fresh strawberries, halved
½ cup fresh blueberries
Instructions
In a bowl, combine flour, pecans and butter. Press into an ungreased 13x9-in. baking dish. Bake at 350° for 18-20 minutes. Cool on a wire rack.
In a bowl, beat cream cheese and confectioners' sugar. Fold in half the whipped topping; spread over crust. In another bowl, whisk milk and pudding mix for 2 minutes. Let stand for 2 minutes or until soft-set.
Spread over cream cheese layer. Cover with remaining whipped topping. Decorate with strawberries and blueberries to resemble a flag. Chill for at least 1 hour before serving.
Watch the recipe video here: