Mixed Berry Skillet Pancake
This Valentine's Day, try this perfect brunch for two :strawberry::pancakes::cupid: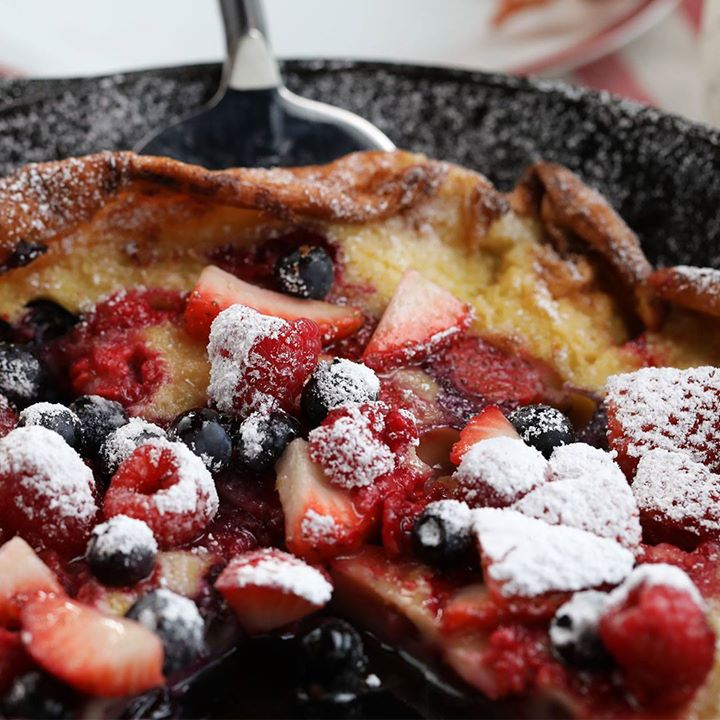 Ingredients
3 eggs
⅓ cup sugar
Pinch of salt
⅔ cup flour
⅔ cup milk
2 tablespoons Land O'Lakes Tub Butter
1 cup berries, plus a ½ cup extra for garnish
Powdered sugar, garnish
Lemon Honey Butter
¼ cup Land O'Lakes Tub Butter with Canola Oil, softened
Zest of 1 lemon and juice of ½
2 teaspoons honey
Instructions
Preheat oven to 425ºF.
In a bowl, whisk the eggs. Add the sugar and salt and whisk well. Add the flour and milk and whisk until no lumps remain.
Add the butter to an empty 10-inch cast-iron skillet. Place skillet in the oven and wait 1–2 minutes for the butter to melt. Watch carefully to make sure that the butter doesn't burn.
Remove the skillet from the oven and pour the batter in. Arrange the berries on top of the batter, but leave a 1-inch ring around the edges without berries.
Bake pancake for 12 minutes, until golden brown and puffed.
While pancake is baking, make the butter. In a bowl, whisk lemon zest, lemon juice, and honey into the softened butter until fully incorporated.
Remove pancake from oven. Dust with powdered sugar, garnish with extra berries, and dot pancake with lemon honey butter. Serve!
Watch the recipe video here:
Mixed Berry Skillet PancakeThis Valentine's Day, try this perfect brunch for two ? ? ?

Posted by Tasty on Friday, February 9, 2018