Chicken Parmesan Drumsticks
Here, chicken Parmesan is transformed into a one-pan meal you can eat out of hand. The drumsticks are oven-fried, then topped with marinara sauce and mozzarella and baked until the cheese is gooey.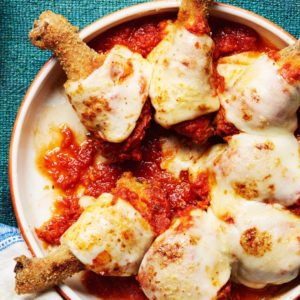 Ingredients
1½ cups seasoned Italian breadcrumbs
5 tablespoons canola oil
Kosher salt and freshly ground black pepper
8 chicken drumsticks (about 2 pounds), skin on, at room temperature
1½ cups jarred marinara sauce, warmed, plus more for serving
⅓ cup grated Parmesan (about 1 ounce)
6 ounces part-skim mozzarella, thinly sliced into ⅛-inch pieces
Instructions
Position an oven rack on the lowest shelf and preheat the oven to 450 degrees F. Combine the breadcrumbs, oil, ½ teaspoon salt and ¼ teaspoon pepper in a large resealable plastic bag. Put the drumsticks in a large bowl and toss to coat with 1 tablespoon water. Place the drumsticks in the bag with the breadcrumbs and shake well to coat, pressing the breadcrumbs firmly into the meat. Arrange the drumsticks in a circle on a 9-inch pie dish with the tips facing out (they may rest on the rim of the dish). Bake until the breadcrumbs are dark golden and the internal temperature registers 165 degrees F on an instant-read thermometer (avoid touching bone), 30 to 35 minutes.
Divide the sauce evenly over the drumsticks. Sprinkle the Parmesan over the top and lay 1 slice of mozzarella on top of each drumstick. Return the drumsticks to the oven and cook until the cheese is melted and bubbly, about 10 minutes. Serve.
Watch the recipe video here: