Tuscan Chicken Potato Lasagna
TUSCAN CHICKEN POTATO LASAGNA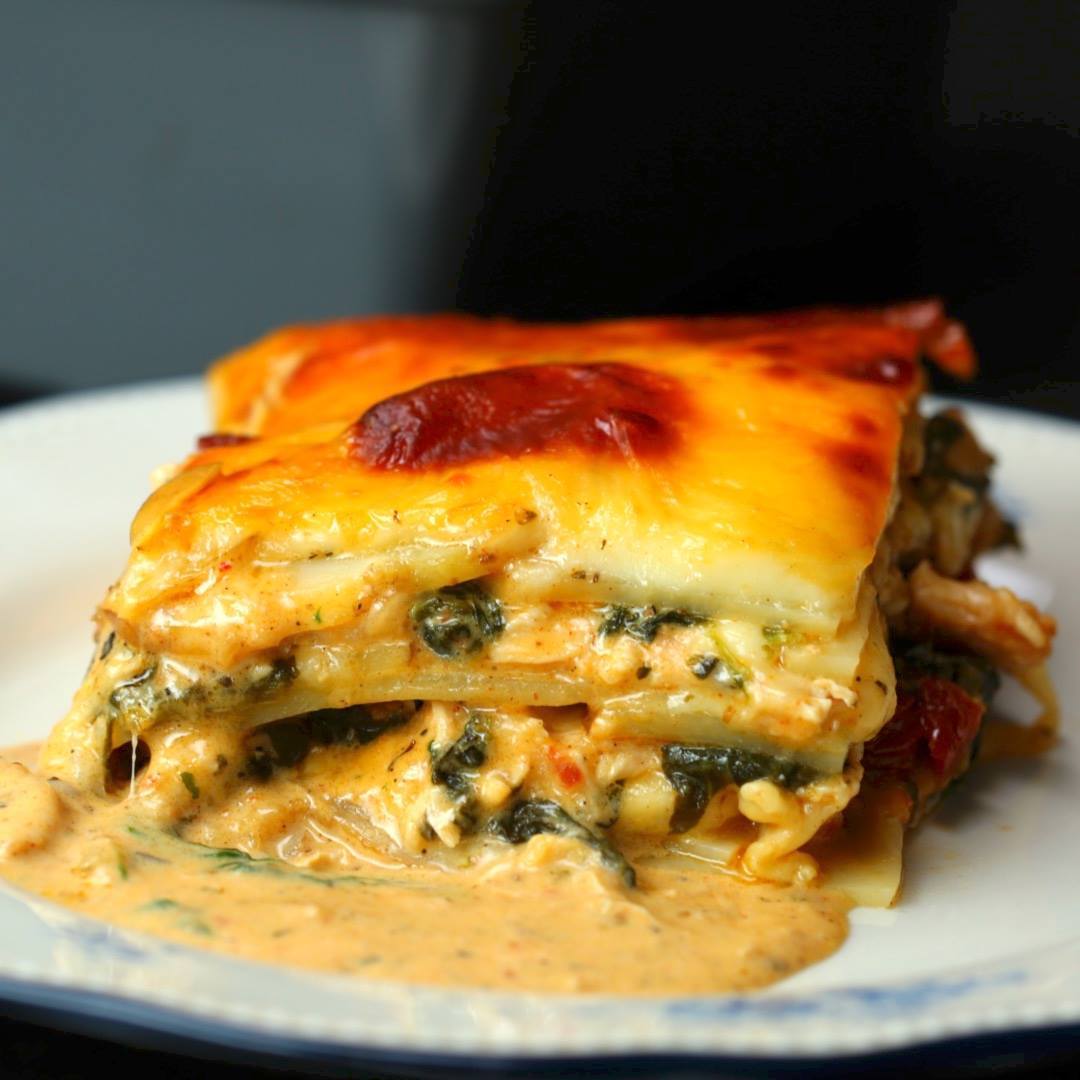 Ingredients
3 chicken breasts
1 tsp paprika
1 tsp salt
1 tsp pepper
2 tbsp oil
2 tbsp butter
3 cloves garlic, crushed
2 tbsp flour
600ml chicken stock
300ml double cream
200g drained and chopped sundried tomatoes
150g spinach, cooked and drained
50g parmesan, grated
1 tbsp Italian herb seasoning
6 or so smallish potatoes, unpeeled
18 sheets of mozzarella
Instructions
Preheat the oven to 180°C360°F.
Coat the chicken breasts with the paprika, salt, pepper and oil. Fry them in a hot pan until browned on both sides, then oven bake for a further 5 minutes until cooked through. Shred with two forks.
Meanwhile, heat the butter until foaming and fry the garlic. Add the flour and stir, cooking for a further minute. Pour over the chicken stock gradually, beating it in with a wooden spoon each time to make a thick sauce.
Pour in the double cream and stir everything together, then add the sundried tomatoes, cooked spinach, parmesan and Italian herbs. Add the cooked chicken and take off the heat.
Using a mandolin or a sharp knife slice the potatoes as thinly as possible. Lay them in an even layer along the bottom of a greased lasagna dish. Top with a layer of mozzarella slices and spread a third of the cream chicken mix on top. Repeat three times, finishing with a layer of the cheese.
Bake for around one and a half hours until cooked through.
Watch the recipe video here:
Tuscan Chicken Potato Lasagna

Posted by Twisted on Sunday, June 17, 2018