Mont Blancs
Enjoy the recent snow-fall with these snow-capped hazelnut desserts!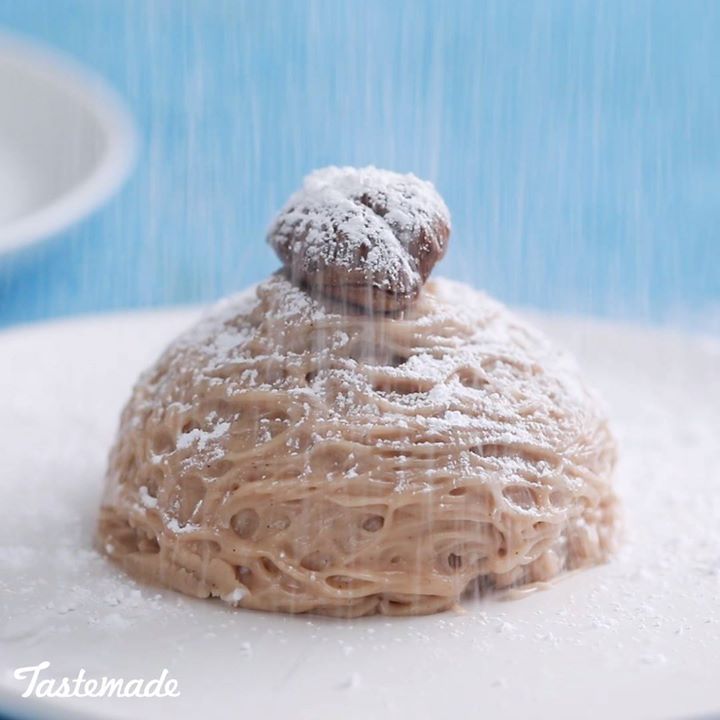 Ingredients
For the cake base:
1 box vanilla cake mix
For the vanilla whipped cream:
1½ cups heavy cream
6 tablespoons powdered sugar
½ vanilla bean, scraped
For the chestnut topping and garnish:
15 oz chestnut puree
1 cup powdered sugar
2 tablespoons dark rum
1 tablespoon heavy cream
1 vanilla bean, scraped
12 whole chestnuts, cooked
Powdered sugar, for garnish
Instructions
For the cake:
Preheat oven to 350 degrees. Grease a 9 by 13 inch cake pan. Bake the vanilla cake following the directions on the box. Allow to cool completely, then cut out 2-inch rounds of cake and set aside.
For the vanilla whipped cream and assembly: In the bowl of a stand mixer, beat the heavy cream, sugar and vanilla bean until stiff peaks form.
Using a silicone mini cake pan or muffin tin lined with plastic wrap, spoon the vanilla bean whipped cream into each indentation until half full. Press a round of cake into the whipped cream, taking care not to press it all the way to the bottom of the tin. Top the cakes with more whipped cream, making sure all of the cake is covered, and level the tops of the tins. Place in the freezer to set for about 1 hour.
For the chestnut topping and garnish: In a food processor, place the chestnut puree, sugar, rum, cream and vanilla bean. Pulse until completely combined and smooth.
Using a large zip-top bag, fold the corner over and tape the side. Poke holes in the base of the bag to create a DIY grass tip. Fill the piping bag with chestnut topping.
Remove whipped cream cakes from the freezer and unmold them. Top each cake with a chestnut. Pipe each one with a tangle of chestnut topping, top with another chestnut, then place in the freezer for another 20 minutes. Garnish with powdered sugar and serve.
Watch the recipe video here:
Enjoy the recent snow-fall with these snow-capped chestnut desserts!Full Recipe: taste.md/2oUUTnn

Posted by Tastemade on Wednesday, March 7, 2018