Pickleback Corn-Dog Bites
Practice safe snacks, use condiments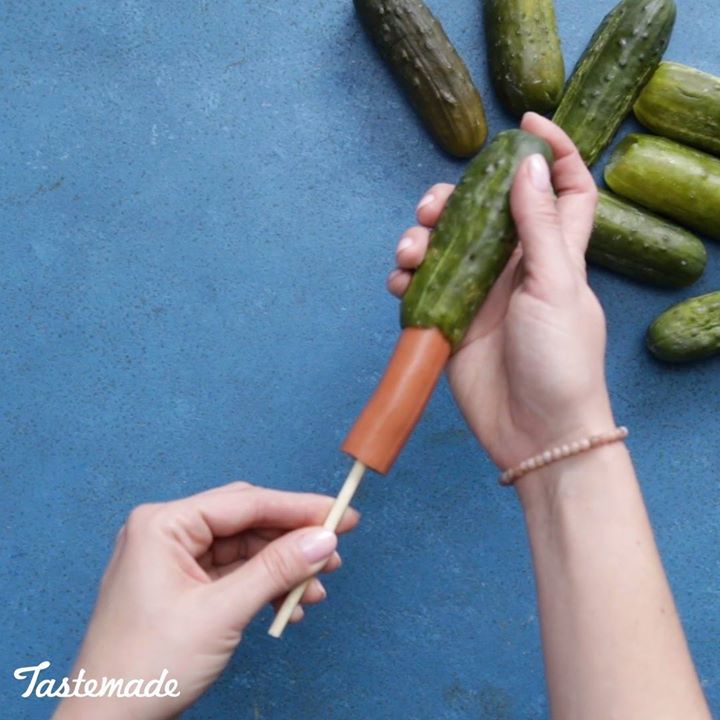 Ingredients
Vegetable oil, for frying
½ cup yellow cornmeal
½ cup all-purpose flour
2 teaspoons baking powder
1 tablespoon sugar
1 large egg
½ cup light beer
1 tablespoon whiskey
8 medium dill pickles
8 hot dogs, patted dry
Instructions
In a large heavy-bottomed saucepan, preheat 4 inches of oil to 350 degrees.
In a medium mixing bowl, combine cornmeal, flour, baking powder, sugar, egg, beer and whiskey until combined and still slightly lumpy. Do not over mix. Set aside.
Using an apple corer, hollow out the inside of each pickle. Skewer the hot dog and place inside the pickle. Dip each pickle/hot dog into the batter, allowing excess to drip off.
Fry in preheated oil for 3 to 5 minutes or until golden brown. Let drain on paper towel-lined plate. Dip into ketchup or mustard. Enjoy!
Watch the recipe video here:
Tickle tickle, here comes the pickle. Full Recipe: taste.md/2DbAS0S

Posted by Tastemade on Saturday, March 10, 2018