Chocolate Banana French Toast Swirls
No time to make dough, no problem. These french toast spirals are laden with chocolate spread and bananas...a breakfast combo made in heaven!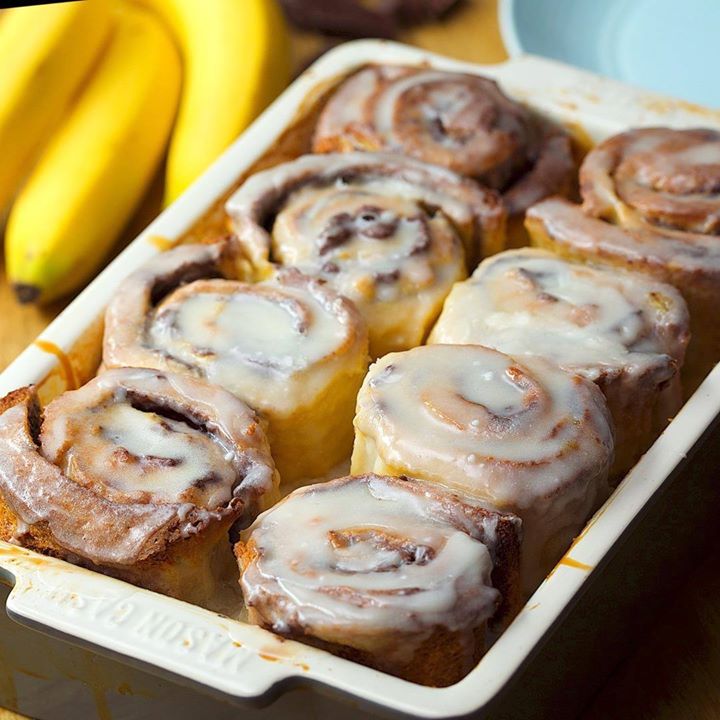 Ingredients
1 loaf soft white bread
1 cup chocolate spread
4 bananas, sliced thin
3 eggs
1 cup cream
¼ milk
1 tsp vanilla
2 tbsp sugar
1 cup icing sugar
2 tbsp melted butter
1 tbsp milk
Instructions
Pre-heat oven to 180ºC (350ºF).
Cut the crusts off all slices of bread. Put 3-4 together just slightly overlapping and press the seems together using your fingers to seal. Repeat with remaining bread.
Spread chocolate spread over each piece of bread. Lay pieces of banana over the chocolate spread. Roll into a tight roll.
Place each into a greased baking dish with high sides.
In a large glass, jug whisk together eggs, cream, milk, sugar and 1 tsp vanilla until smooth. Pour over spirals and let soak for 10-15 minutes until completely absorbed.
Bake in the oven for 40 minutes until puffed up, golden brown and cooked through. Cover with foil if it gets dark on top too quickly.
In another jug whisk together icing sugar, milk, melted butter and ½ tsp vanilla.
Pour glaze over while still warm.
Enjoy!
Watch the recipe video here: