Piecake
Life is a combination of magic, cake and pie. This recipe has all three.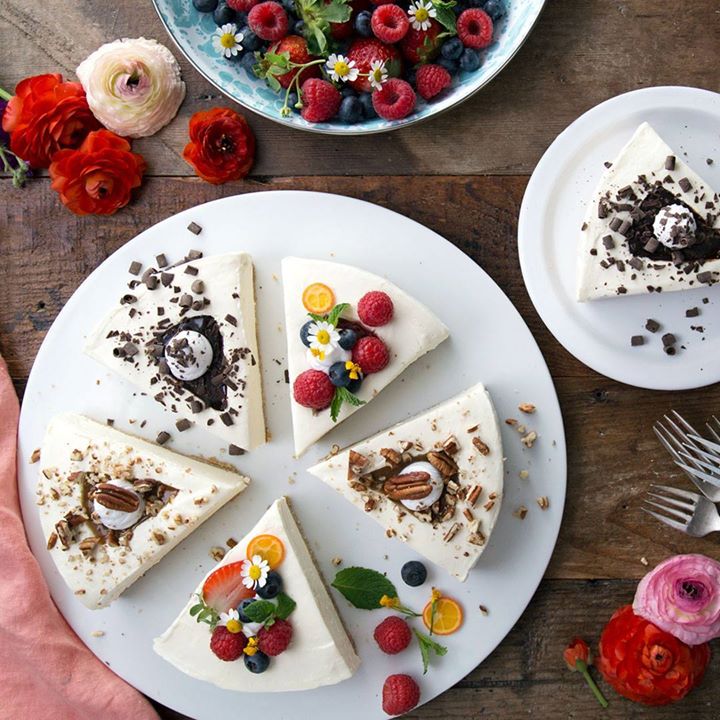 Ingredients
For the filling:
6 wedges Laughing Cow cheese
4 (8-ounce) packages cream cheese, softened
1 (14-ounce) can sweetened condensed milk
1 teaspoon vanilla extract
¼ cup lemon juice
For the crust:
1½ cups graham cracker crumbs
3 tablespoons brown sugar
6 tablespoons butter, melted
For the filling:
1 cup chocolate sauce
Chocolate candies, for garnish
1 cup raspberry jam
1 cup mixed berries, for garnish
Mint sprigs, for garnish
1 cup caramel
Whipped cream, for garnish
Toasted pecans, for garnish
Instructions
Wrap the 6 wedges of cheese in plastic wrap and set aside. Grease a 9-inch springform pan and line with parchment paper.
In the bowl of a food processor, place the graham crackers, brown sugar and butter. Pulse until combined then pour the crumbs into the springform pan and press them to compact the crust.
In a large bowl, use a hand mixer to cream the cream cheese. Slowly add in condensed milk, vanilla and lemon juice. Pour over the crust in the springform pan. Level the top and gently press the plastic-wrapped cheeses into the top and place in the freezer to set overnight.
Unmold the cake and place on a platter. Fill the indentations with the fillings in alternating order and garnish as desired and serve chilled.
Watch the recipe video here: