Strawberry Cheesecake Lush
The word lush brings to mind all things elaborate and swanky, but when it comes to dessert it just means an easy and simple layered confection that tastes rich. A crunchy base of cookies is topped with a couple of silky layers of cheesecake, pudding and whipped topping and chilled until set, and there you have it – the incredible, irresistible lush.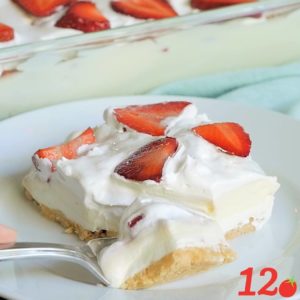 Ingredients
1 package vanilla sandwich cookies (36 cookies)
½ cup (1 stick) unsalted butter, melted
8 ounces cream cheese, softened
1½ cups powdered sugar
2 (16 ounce) containers whipped topping, divided
2 packages (3.4 oz each) instant pudding mix, cheesecake flavor
3 cups milk
4 cups sliced strawberries
Instructions
Using a food processor, pulse sandwich cookies until they are fine crumbs. You can also place cookies in a large ziploc bag and crush them with a rolling pin or heavy glass.
In a large bowl, mix together the cookie crumbs and melted butter until well combined. Press cookie mixture into a 9x13 inch baking dish. Chill in refrigerator.
Meanwhile, in a medium bowl, combine powdered sugar, cream cheese, and 1 cup of whipped topping, and beat with electric mixer until smooth. Spread over cookie layer in pan.
In the same bowl, combine pudding mix, milk, and 1 cup of whipped topping, and beat with electric mixer for 2 minutes. Spread over cream cheese layer in pan.
Top with sliced strawberries and spread more whipped topping over the top to cover. Garnish with additional strawberries if desired. Chill until ready to serve.
Watch the recipe video here: