Bacon Breakfast Shots
Start your morning with a shot — of bacon, scrambled eggs and cheese.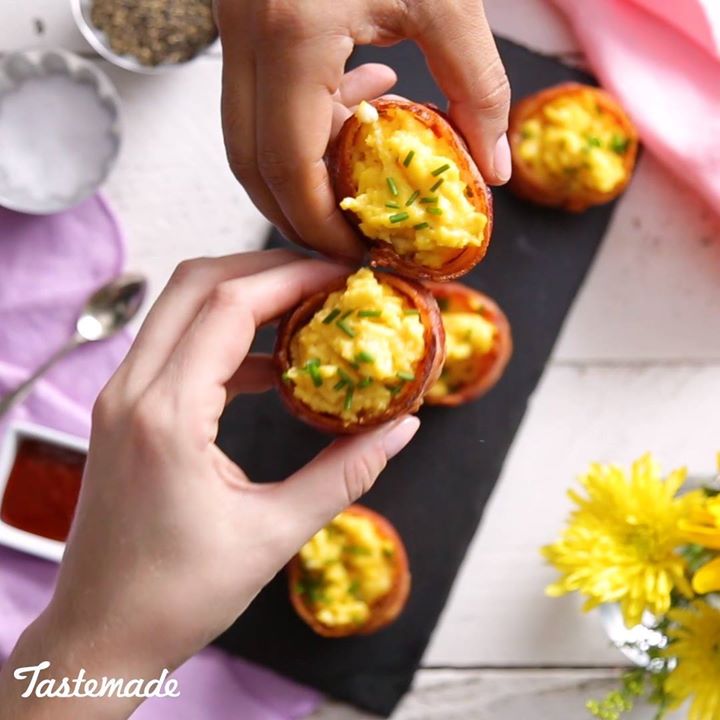 Ingredients
1 pound bacon
1 tablespoon unsalted butter
8 eggs, lightly beaten
1 teaspoon garlic powder
Salt and pepper, to taste
2 white American cheese slices, torn
¼ cup shredded mozzarella
Chives, for garnish
Sriracha, to taste
Instructions
Preheat oven to 400 degrees.
Cut a paper towel tube into 4 smaller cylinders and cover them with aluminum foil. These will be the shot forms. Place half a piece of bacon on the bottom of the tube and wrap 1½ more pieces around the outside to create the shot shape. Place bacon shot molds into a muffin tin and bake for 20 to 30 minutes. Once shots have cooled slightly, remove from molds.
In a medium nonstick skillet, heat 1 tablespoon of butter. Add beaten eggs, garlic powder, salt and pepper. Cook over low heat. Add torn pieces of American cheese and mozzarella. Continue to cook eggs until they are light, fluffy and creamy. Scoop eggs into each bacon shot cavity and top with chives or hot sauce. Enjoy!
Watch the recipe video here:
When your alarm goes off in the morning…. Shots shots shots shots shots, EVERYBODY!Taste for Yourself: taste.md/2vpNUJu

Posted by Tastemade on Thursday, April 19, 2018