Loaded Ham & Cheese Potato Dippers
These loaded ham and cheese potato dippers will satisfy your cheesy cravings!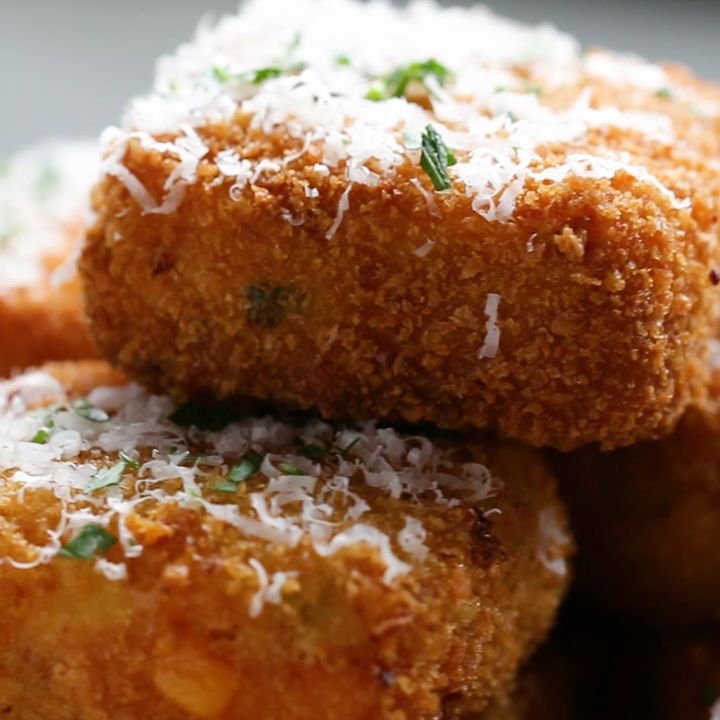 Ingredients
5 lb (2.2 kg) yukon gold potato, peeled and cooked
2 cups (200 g) shredded cheddar cheese
4 oz (115 g) cream cheese
16 oz (455 g) bacon, cooked and crumbled
1 bunch scallion, sliced
½ tablespoon salt
½ tablespoon black pepper
1 tablespoon onion powder
20 oz (565 g) ham, sliced
1 lb (455 g) cheddar cheese, 1 block, sliced into 20 1-inch (2-cm) squares
1 qt (1 L) canola oil, for frying
2 cups (250 g) all-purpose flour
8 large eggs, beaten
4 cups (200 g) panko breadcrumbs
¼ cup (25 g) shredded parmesan cheese
2 tablespoons fresh parsley, chopped
Instructions
In a large bowl, mash the potatoes until there are no lumps.
Add the cheddar cheese, cream cheese, bacon, scallions, salt, pepper, and onion powder.
Mix until smooth.
Transfer the mixture to a baking sheet lined with parchment paper. Smooth out the top.
Lay a 1-inch (2-cm) square of cheddar cheese in the center of a slice of ham. Fold the edges of the ham over the cheese, making a tight parcel. Repeat with the remaining ham and cheese.
Press a ham-and-cheese square into the potato mixture, making sure to leave 1 inch (2-cm) of space on all sides. Repeat with the rest of the squares.
Push the potato mixture around to cover up and seal the tops of the ham squares, then smooth out again.
Freeze for 30 minutes, then slice the mixture into squares so each square has a ham square in the middle.
Place the flour, eggs, and panko into 3 separate medium bowls.
Dip a square into the flour, shaking off any excess. Dredge in the egg, then in the panko. Repeat with the remaining squares.
Heat the oil in a large pot until it reaches 350°F (180°C).
Fry the potato squares two at a time until golden brown, about 4-5 minutes, then drain on paper towels.
Garnish the potato dippers with shredded Parmesan cheese and chopped parsley. Serve warm.
Enjoy!
Watch the recipe video here:
These loaded ham and cheese potato dippers will satisfy your cheesy cravings ?!FULL RECIPE: https://tasty.co/recipe/loaded-ham-cheese-potato-dippersShop our essential kitchen products here: https://bzfd.it/2GEJ0Nm – We may make some $$ if you buy!

Posted by Tasty on Monday, March 26, 2018