Chicken Parmesan Stuffed Shells
Prepared chicken tenders make for a speedy Parmesan filling in these cheesy stuffed shells. Keep this trick in your recipe box the next time you want to make chicken Parmesan in a flash.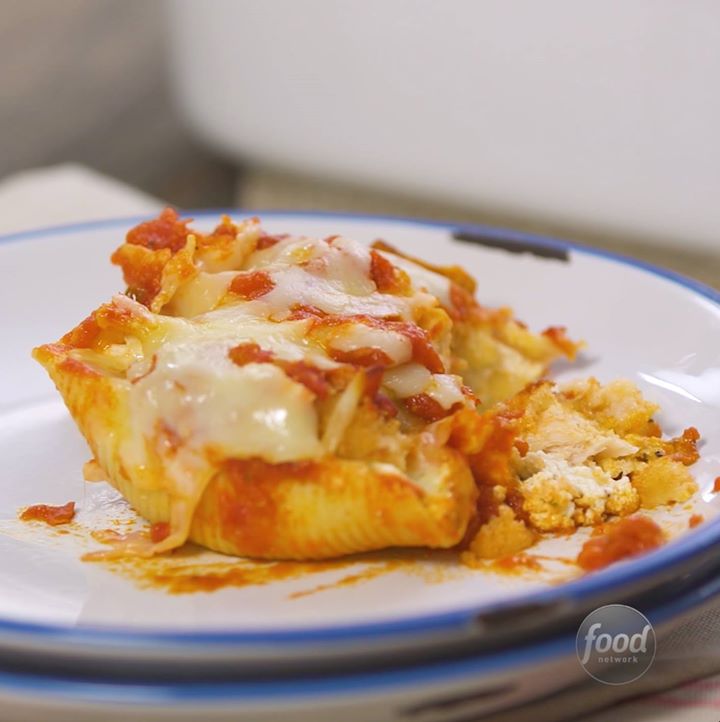 Ingredients
Kosher salt
24 jumbo pasta shells (about 10 ounces)
6 frozen chicken tenders (about 12 ounces)
1 pound whole-milk ricotta
1 cup grated Parmesan
1½ teaspoons Italian seasoning
3 cups shredded mozzarella (about 12 ounces)
2½ cups marinara sauce
Instructions
Position an oven rack in the center of the oven and preheat to 400 degrees F.
Bring a large pot of salted water to a boil. Cook the pasta shells until just slightly softened but still firm, about 7 minutes. Drain well, then rinse under cold water. Arrange the shells in a single layer on a baking sheet, without touching each other.
Cook the chicken tenders according to the package directions. Slice the tenders into quarters; set aside.
Meanwhile, stir together the ricotta, Parmesan, Italian seasoning, 1½ cups of the mozzarella and ½ teaspoon salt in a medium bowl. Transfer the mixture to a medium resealable plastic bag. Snip ½ inch off one corner of the bag.
Spread 1 cup of the marinara sauce on the bottom of a 9-by-13-inch baking dish. While holding a shell open with your fingers, pipe full with the ricotta mixture (about 1½ tablespoons), then transfer to the baking dish. Press 1 chicken strip on top of the ricotta mixture. Repeat with the remaining shells, ricotta and chicken. Spoon the remaining 1½ cups marinara sauce over the shells, then sprinkle with the remaining 1½ cups mozzarella.
Bake, uncovered, until the cheese is melted and golden brown and the casserole is bubbling slightly on the sides, about 25 minutes.
Watch the recipe video here: