Cookie Cake
Bigger is better, especially when we're talking cookies.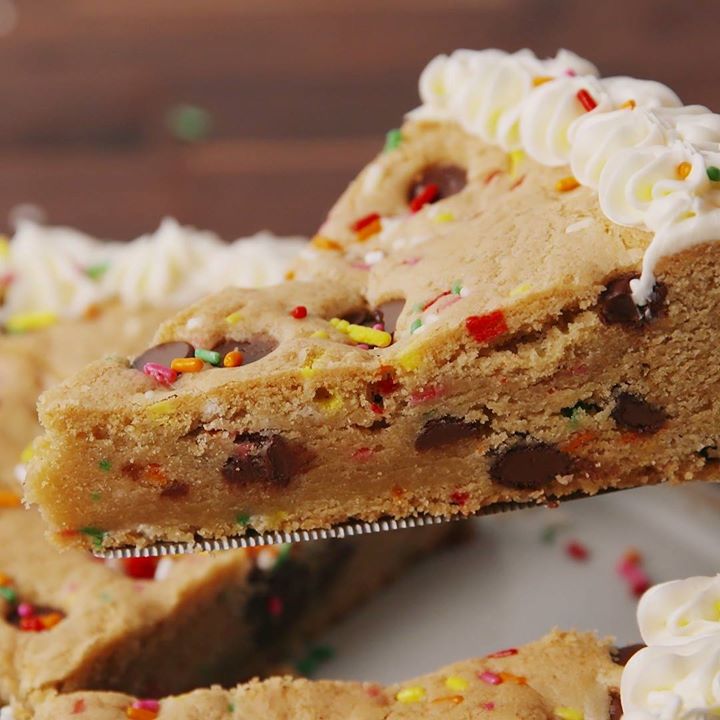 Ingredients
1 c. unsalted butter, at room temperature
¾ c. brown sugar
¾ c. granulated sugar
2 large eggs
2 tsp. vanilla extract
2⅔ c. all-purpose flour
1 tsp. baking soda
½ tsp. kosher salt
2 c. chocolate chips (plus more for sprinkling)
¼ c. rainbow sprinkles (plus more for sprinkling)
Flaky sea salt, to finish
1 c. vanilla frosting
Instructions
Preheat oven to 350° and line a 9" round cake pan with parchment paper. Spray with cooking spray.
In a large bowl, combine butter and sugars. Beat with a hand mixer until light and fluffy. Add eggs, one at a time, beating well between each addition. Stir in vanilla. Add flour, baking soda and salt and mix on low until just combined. Fold in chocolate chips and rainbow sprinkles.
Press cookie dough into an even layer in the prepared pan. Top with more chocolate chips and sprinkles, if desired. Bake until the cookie is golden, about 25 minutes. Let cool in pan for 15 minutes then transfer cake to a cooling rack to cool completely.
Transfer frosting to a piping bag fit with a large star tip. Pipe frosting around the edge of the cooled cookie cake. Slice into wedges.
Watch the recipe video here:
You need to make this Cookie Cake for a friend's birthday. Full recipe: http://dlsh.it/647LERC

Posted by Delish on Saturday, March 17, 2018