Hot Chocolate Igloo Cake
It's only logical that a marshmallow covered igloo would hide a hot chocolate cake filled with chocolate ganache inside.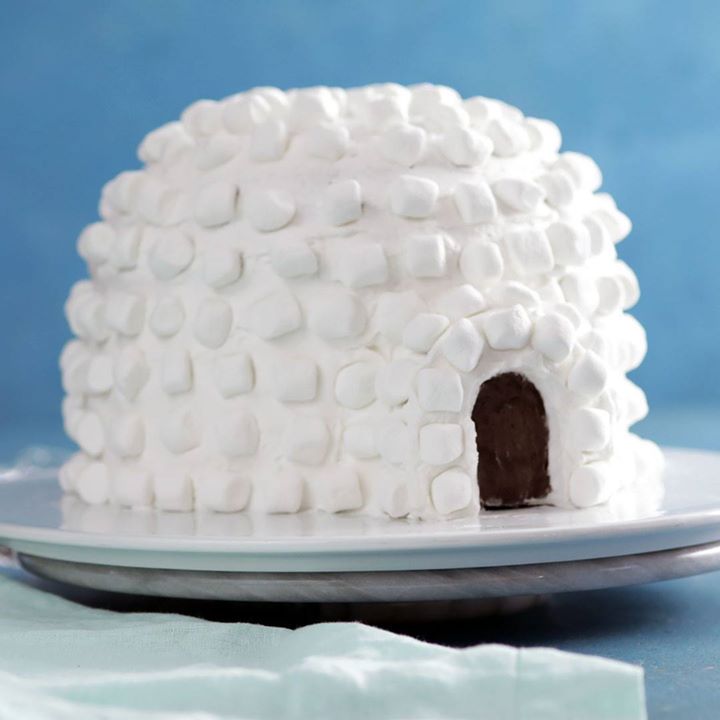 Ingredients
2 chocolate box cake mixes, prepared
1 packet hot chocolate mix
1½ cups chocolate chips
1 cup heavy cream
1½ cups chocolate chips
1 chocolate cake donut
3 cups chocolate buttercream
3 cups vanilla buttercream
8 cups mini marshmallows
Instructions
For the cake: Preheat oven to 325 degrees. Grease an 8-inch glass bowl and two 8-inch cake pans and set aside.
Pour hot cocoa mix and chocolate chips into the cake mix. Pour into the prepared pans.
Bake cakes for 35 to 45 minutes or until a cake tester comes out clean. Set aside to cool for 10 minutes, then invert onto a wire rack to cool completely.
For the ganache and assembly: Heat the heavy cream and pour it over the dark chocolate chips in a large heatproof bowl. Allow mixture to sit for 5 minutes, then mix well until all chocolate is melted.
Cut a 3-inch round out of the center of one 8-inch cake. Set aside.
Build the cake by placing the bottom 8-inch round on a cake stand. Ice with chocolate buttercream and top with the 8-inch round with a cut out center. Level the base of the dome cake and place on top. Using a funnel, poke a hole through the top of your igloo. Ice the outside of the cake with chocolate buttercream, place a donut on one side as a door, ice it and place in the refrigerator to set.
Once the cake is set, coat the cake with vanilla buttercream. Using mini marshmallows, cover the whole cake in an igloo ice cube pattern. Fill with the warm ganache, and serve immediately.
Watch the recipe video here:
It's only logical that a marshmallow covered igloo would ooze rich, sticky chocolate ganache.Full Recipe: bit.ly/2Ew4jfx

Posted by Tastemade on Monday, March 12, 2018