Caprese Garlic Bread
Melty mozzarella and fresh tomatoes give basic garlic bread a MAJOR upgrade.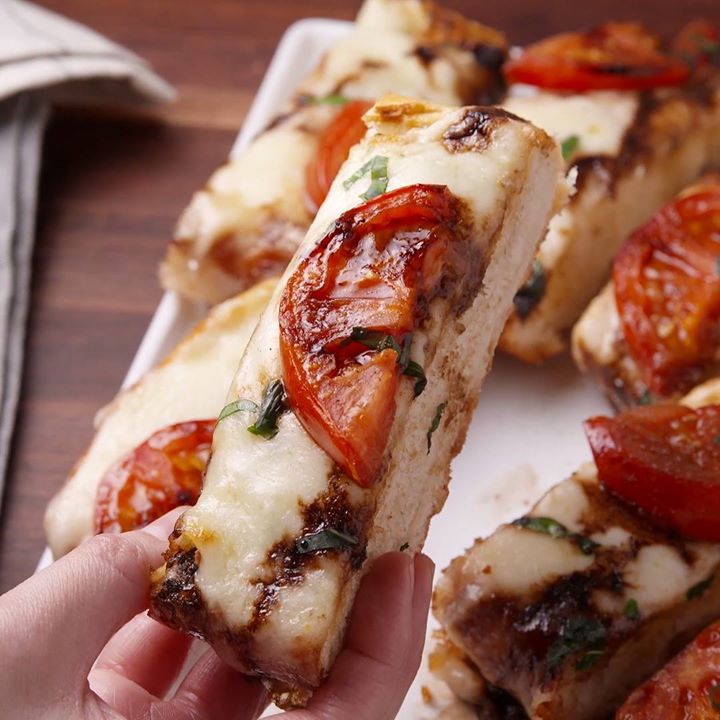 Ingredients
1 loaf ciabatta bread, sliced in half
½ c. unsalted butter, softened to room temperature
2 cloves garlic, minced
kosher salt
1½ c. shredded mozzarella
2 large tomatoes, sliced
¼ c. balsamic vinegar
1 tbsp. honey
2 tbsp. finely sliced basil
1 tbsp. extra-virgin olive oil
Instructions
Preheat oven to 350 degrees F. Place bread halves on a large baking sheet.
In a medium bowl, mash together garlic and butter then season with salt and pepper. Spread butter mixture onto both baguette halves. Bake until the bread is toasted, about 15-20 minutes.
Top the toasted bread with mozzarella and tomato slices and bake until the cheese has melted, about 5-10 minutes more.
Meanwhile, make balsamic glaze: In a small saucepan, combine balsamic vinegar and honey. Simmer until reduced by half, stirring occasionally, for 8-10 minutes (the mixture should coat the back of a spoon). Let cool.
Drizzle garlic bread with olive oil and balsamic glaze. Garnish with basil, then cut into slices and serve warm.
Watch the recipe video here:
How To Make Caprese Garlic Bread

You're going to wish this Caprese Garlic Bread was free at every restaurant.Full recipe: http://dlsh.it/yT7LdSl

Posted by Delish on Tuesday, January 30, 2018