Blueberry Mousse Cake
Blueberry fans will love this creamy, layered mousse cake made with a blueberry and oatmeal cookie crust.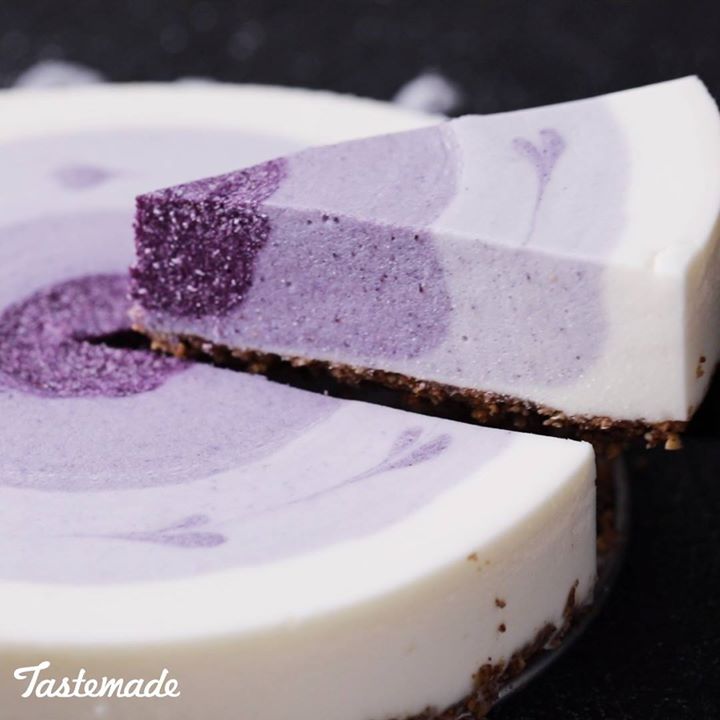 Ingredients
Blueberry lemon oatmeal crust:
2 cups sweet oatmeal cookies
1½ tablespoons butter, melted
1 tablespoon blueberry powder
1 teaspoon lemon zest
Mousse:
10 gelatin sheets or 2 tablespoons gelatin powder
1 cup milk, warm
1 cup mascarpone cheese, softened
½ cup sugar
1½ cups heavy cream, soft whipped
¼ cup freeze-dried blueberries
Instructions
For the crust:
In a large mixing bowl, stir all ingredients until they reach a moist sand texture. Press into the bottom of a 6-inch springform pan, pressing down with the back of a cup.
For the mousse: If using gelatin sheets, soak them in cold water until softened, about 5 minutes. Then squeeze out excess water, and stir into warm milk until dissolved. If using gelatin powder, sprinkle the powder over warm milk. Cook the milk/gelatin mixture on a double boiler until dissolved.
Pour warm milk/gelatin mixture over mascarpone cheese. Stir in sugar, then fold in the whipped cream.
Using a heavy duty blender, grind freeze-dried blueberries into blueberry powder. Stir in water to make a thick paste.
Divide the mousse mixture among 4 bowls. Stir blueberry paste into 3 of the bowls, making 3 different shades of purple mousse.
Starting with the white mouse, pour into the center of the pan. Follow with the light purple, medium purple and dark purple mousse.
Tap the pan to smooth out the top. Chill in the fridge for at least 4 hours.
Watch the recipe video here:
Dig your fork into velvety layers of blueberry heaven.Full Recipe: bit.ly/2ES5qcP

Posted by Tastemade on Wednesday, February 21, 2018