Chocolate Bash Cake
For a smashing good time that won't get frosting everywhere, try this chocolate bash cake filled with chocolate-covered mini cupcakes.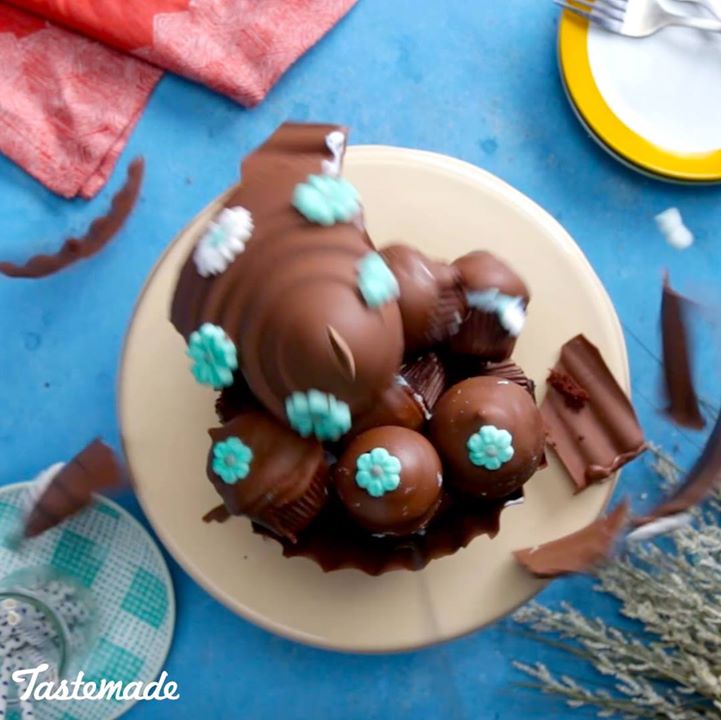 Ingredients
Marshmallow icing:
1¼ cups sugar
3 large egg whites, room temperature
¼ cup water
¼ teaspoon cream of tartar
Purple and turquoise food coloring
Mini cupcakes:
1 package chocolate cake mix, prepared according to package
1 (12-ounce bag) semisweet dark chocolate, melted
24 sugar flowers
To decorate:
20 ounces chocolate, melted
20 sugar flowers
Instructions
For the icing:
In the bowl of a stand mixer with the whisk attachment, combine all ingredients except food coloring on medium speed until frothy.
In a double boiler, cook the frothy egg mixture until it reaches 160 degrees. Return mixture to the mixer and whisk on high speed until stiff peaks form.
Divide icing into two small bowls. Dye one bowl turquoise and the other purple. On a piece of plastic wrap, pipe out several strips of icing side by side, alternating colors after each strip. Roll up the plastic wrap into a log. Cut one end off, and fit into a piping bag with a round pastry tip.
For the cupcakes:
Preheat oven to 350 degrees.
In a mini muffin tin with cupcake liners, fill halfway with prepared chocolate cake batter. Bake for 12 minutes. Allow to cool for 15 minutes.
Using the prepared icing, pipe a tall swirl on top of each mini cupcake. Freeze for at least 1 hour until solid.
Place melted chocolate in a bowl. Dip the icing part of each frozen cupcake in melted chocolate, then garnish with sugar flowers.
To assemble: Coat the inside of each half of a giant cupcake mold with melted chocolate by tapping and swirling the chocolate around. Allow excess chocolate to drip off. Place both halves in the fridge to cool for 3 minutes. Once the chocolate is set, pop out the chocolate shell by gently peeling away the silicone mold.
Fill the bottom of the cupcake shell with the mini cupcakes. Pipe a thin line of melted chocolate along the rim of the shell as glue. Attach the top part of the cupcake shell. Garnish with more sugar flowers.
Watch the recipe video here:
This cake guarantees a smashing good time.Full Recipe: bit.ly/2EQGMJR

Posted by Tastemade on Wednesday, February 21, 2018