Dr Pepper Chicken
Call the doctor because we are in love.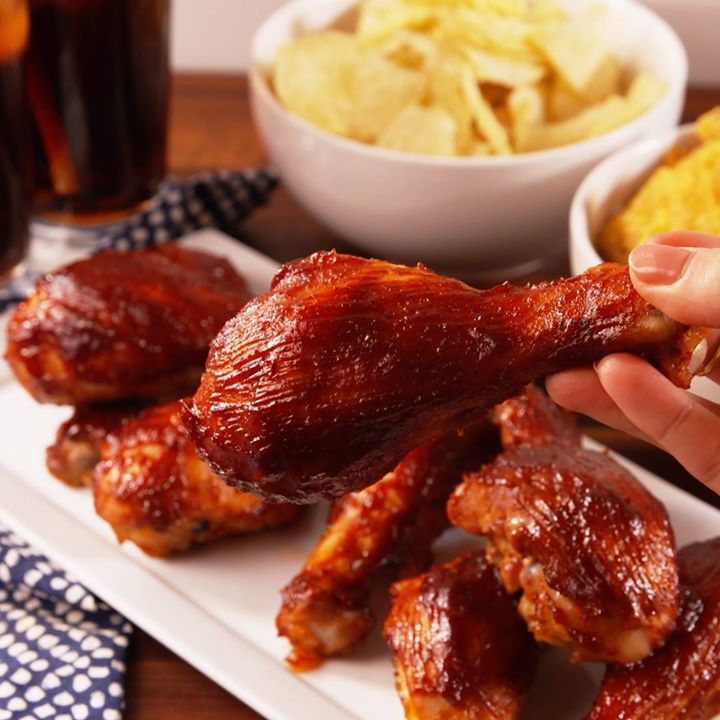 Ingredients
1½ c. ketchup
1 c. Dr Pepper
2 tbsp. tomato paste
1 tbsp. Worcestershire sauce
1 tsp. onion powder
½ tsp. chili powder
kosher salt
Freshly ground black pepper
2 lb. Drumsticks
Instructions
Preheat oven to 425° and line a large baking sheet with parchment paper.
In a medium sauce pan over medium heat, combine ketchup, Dr. Pepper, tomato paste, Worcestershire sauce and onion powder. Whisk to combine and bring to a simmer. Cook until thickened slightly, 4 to 6 minutes. Season with salt and pepper.
Place drumsticks in a large bowl and season generously with salt and pepper. Pour about ¾ the marinade over the chicken and toss to coat. Place chicken in a single layer on prepared baking sheet and bake 30 to 35 minutes. Remove from oven and set oven broiler to high. Brush chicken with remaining sauce and place under broiler until golden and crisp, 3 to 5 minutes.
Remove from oven and let cool slightly then serve.
Watch the recipe video here:
You'll hate how much you love this Dr Pepper Chicken.Full recipe: http://dlsh.it/dmOY7rY

Posted by Delish on Tuesday, February 20, 2018