Caprese Mac 'N' Cheese
This classic mac and cheese skillet is the perfect recipe to please a picky eater — add roasted tomatoes and fresh basil on top, and turn it into something that's fresh, flavorful, and exciting.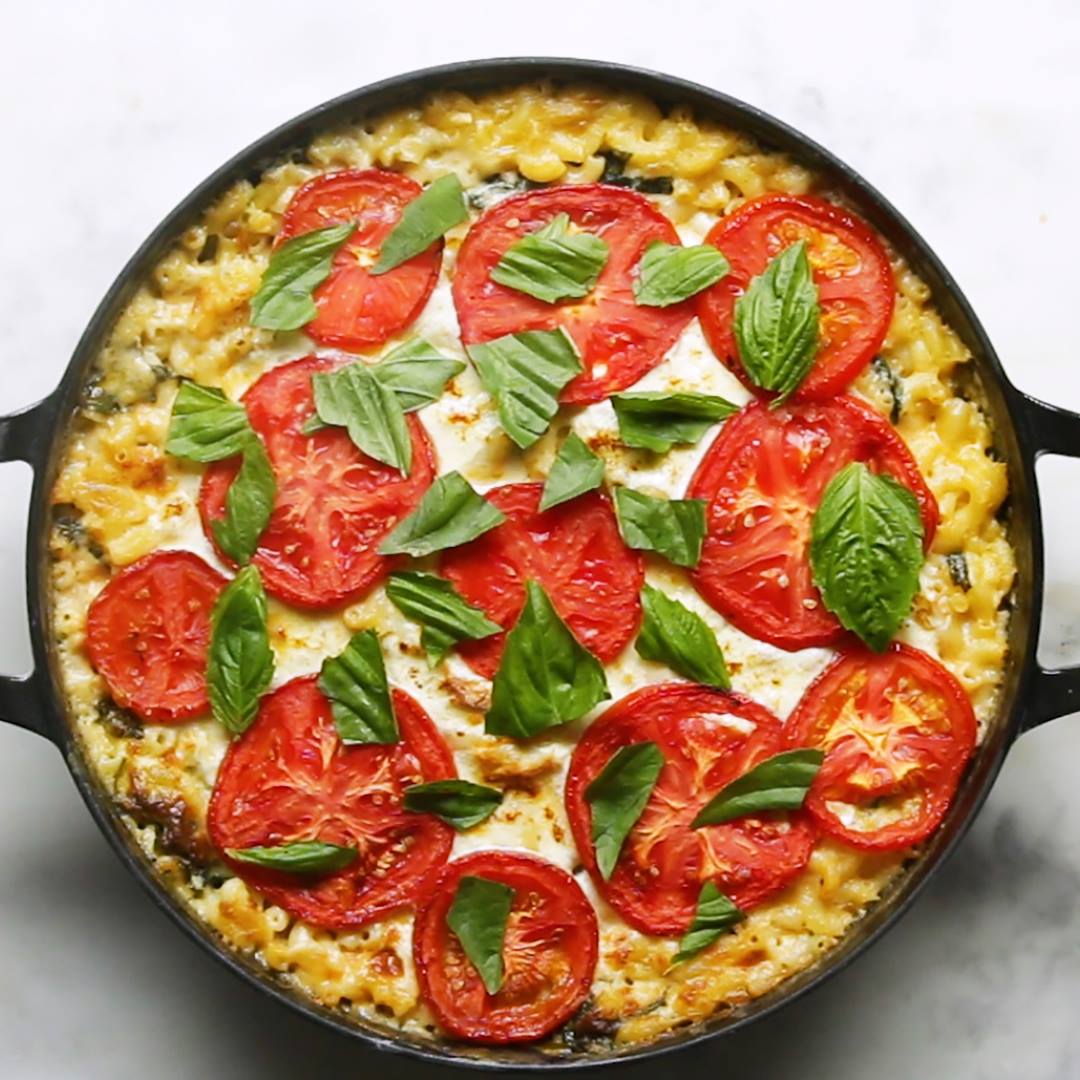 Ingredients
1 lb elbow macaroni, uncooked (455 g)
¼ cup unsalted butter, ½ stick (55 g)
¼ cup all-purpose flour (30 g)
3 ½ cups whole milk (840 mL)
¼ teaspoon paprika
1 teaspoon ground black pepper, plus more to taste
1 teaspoon kosher salt, plus more to taste
2 cups baby spinach (80 g)
2 cups shredded mozzarella cheese, divided (200 g)
½ lb fresh mozzarella cheese, sliced, optional (225 g)
3 small tomatoes, sliced
3 tablespoons fresh basil, chopped
Instructions
Preheat the oven to 350°F (180°C).
Bring a large pot of salted water to a boil and cook the pasta according to the package instructions. Drain and transfer to a large bowl. Set aside.
In a large cast-iron skillet, melt the butter over low heat until foamy. Add the flour and stir until completely smooth and slightly thickened, about 2 minutes.
While stirring, gradually add the milk and cook until the sauce is thickened, about 4 minutes. Season with the paprika, pepper, and salt.
Fold in the spinach and stir until wilted. Add 1½ cups (150 g) of shredded mozzarella and stir until completely melted.
Add the cooked pasta and stir to coat in the sauce.
Sprinkle the remaining shredded mozzarella evenly over the pasta, then top with the fresh mozzarella if using. Arrange the tomato slices on top.
Bake until browned and bubbling, about 25 minutes.
Top with basil before serving.
Enjoy!
Watch the recipe video here:
This classic mac and cheese skillet is the perfect recipe to please a picky eater — add roasted tomatoes and fresh basil on top, and turn it into something that's fresh, flavorful, and exciting. Want more easy back-to-school recipes? Check out Tasty's Back to School Meal Plan here: https://bzfd.it/2ogyGQMGet the recipe: https://tasty.co/recipe/caprese-mac-n-cheese

Posted by Tasty on Friday, August 31, 2018