Meatball-Stuffed Crust Pizza Star
Upgrade your pizza with these meatball-stuffed crust ?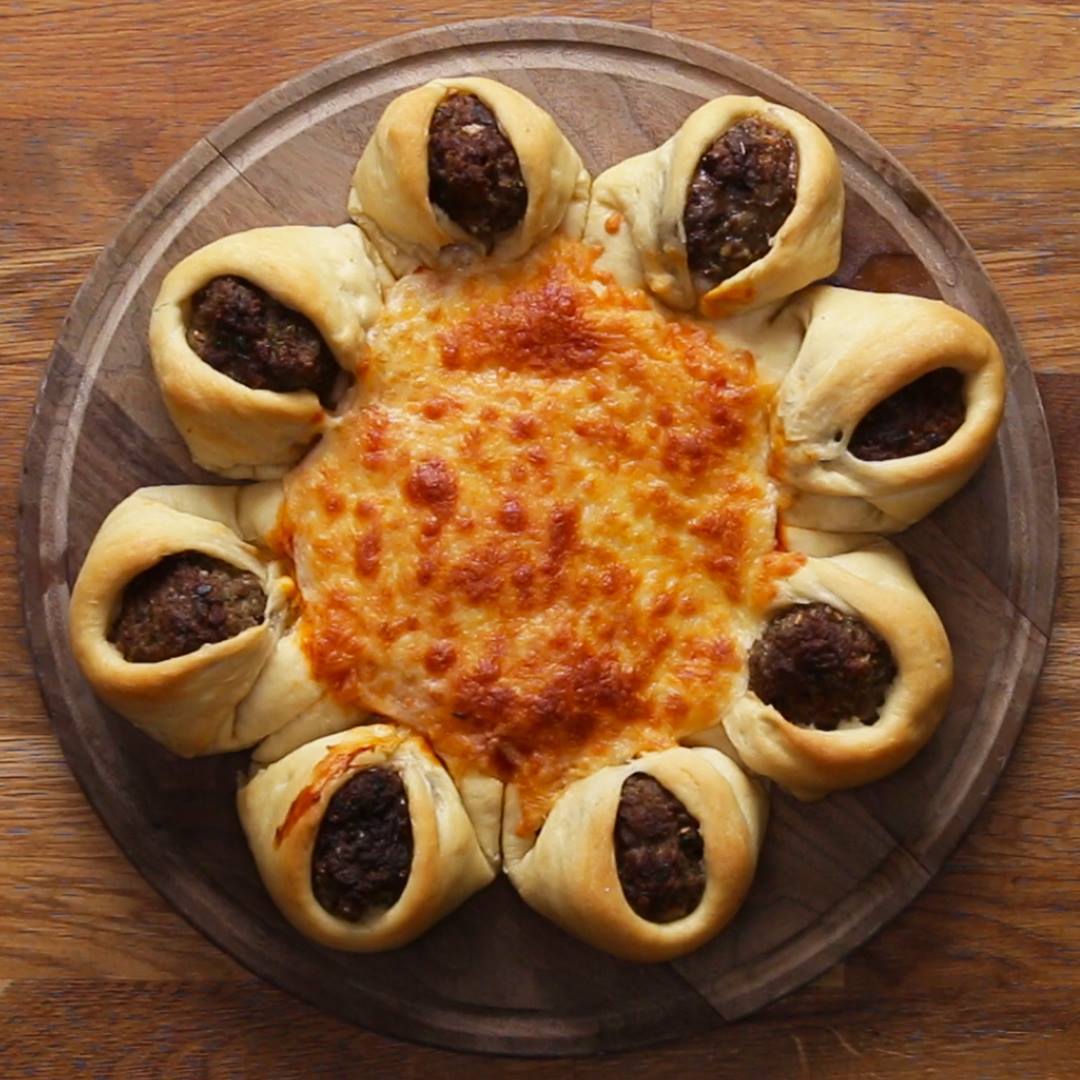 Ingredients
1 lb (455 g) ground beef
1 large egg
½ yellow onion, finely diced
½ cup (60 g) bread crumbs
½ cup (55 g) grated parmesan cheese
¼ cup (10 g) fresh parsley, chopped
3 cloves garlic, minced
1 teaspoon salt
½ teaspoon pepper
1 teaspoon dried oregano
1 tablespoon oil, for cooking
11 oz (310 g) pizza dough
½ cup (130 g) marinara sauce
1 cup (100 g) shredded mozzarella cheese
olive oil, for brushing
Instructions
Preheat the oven to 425°F (220°C).
In a large bowl, mix the ground beef, egg, onion, bread crumbs, Parmesan, parsley, garlic, salt, pepper, and oregano.
Roll the mixture into golf ball-sized meatballs.
In a medium cast iron or nonstick skillet, heat oil over medium heat.
Working in batches cook the meatballs until browned on all sides, about 5 minutes. Set aside.
On a sheet of parchment paper, press the pizza dough into a large circle, about 12 inches (30-cm) in diameter.
Cut 8 evenly spaced 2-inch (5-cm) slits on the edge of the dough.
Place one meatball on the edge of the dough between 2 slits. Pull the corners of the dough around the meatball and press into the dough, sealing the meatball in a dough pocket. Repeat with the remaining meatballs.
With the help of a friend, transfer the pizza and parchment to a baking sheet.
Spoon marinara sauce into the middle of the pizza and spread evenly.
Sprinkle mozzarella over the sauce, or add your favorite pizza toppings! Brush the dough around the meatballs with olive oil.
Bake for 25 minutes, or until the cheese is bubbly and the dough is golden and just cooked through.
Slice with a pizza cutter and serve.
Enjoy!
Watch the recipe video here: