Instant Pot Keto Chicken Fajita Bowls
This keto-approved take on fajitas is a super satisfying low-carb meal. The chicken shreds off the bone easily, while the veggies have a slight crunch and the broth is light and flavorful. It feels indulgent, but you're not breaking any rules.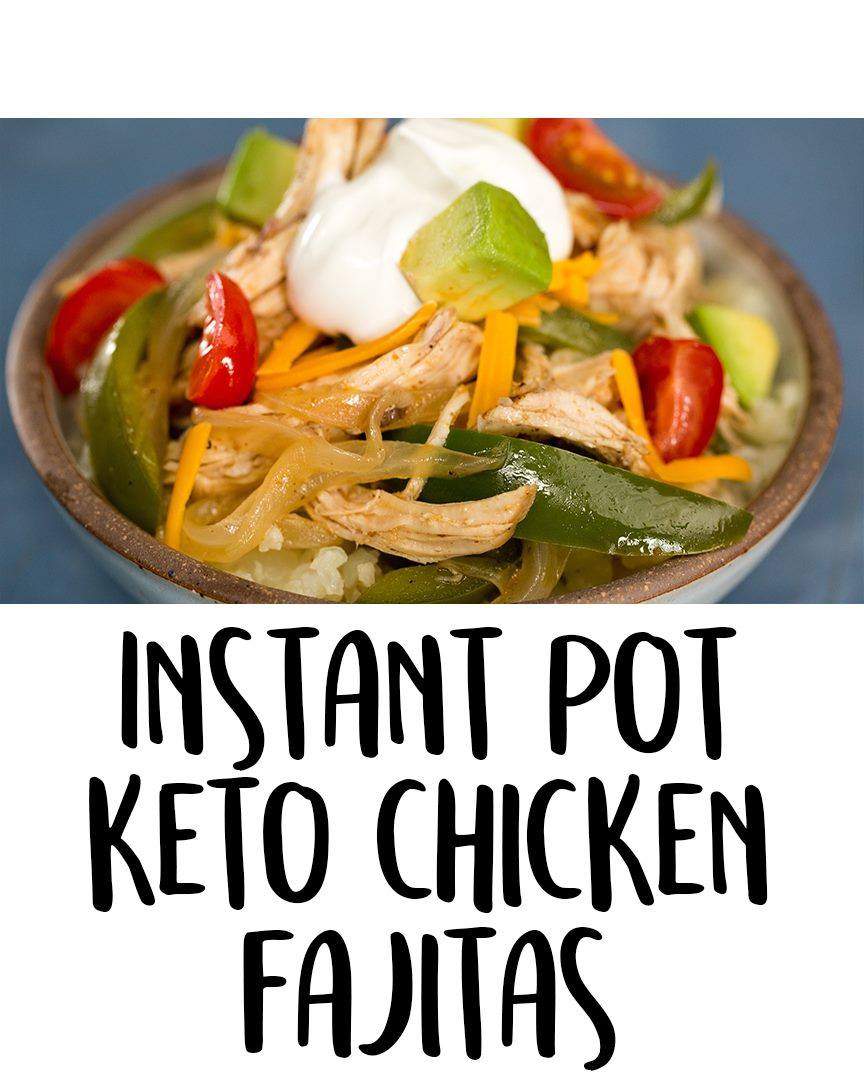 Ingredients
1 tablespoon olive oil, divided
1 green bell pepper, cut in strips
1 medium onion, sliced
2 teaspoons minced garlic
2 pounds bone-in, skinless chicken breasts
1¼ teaspoons kosher salt
1 teaspoon chili powder
1 teaspoon ground cumin
½ teaspoon black pepper
½ cup chicken stock Cooked cauliflower rice
½ cup cherry tomatoes, quartered
1½ ounces Cheddar cheese, shredded (about ⅓ cup)
¼ cup sour cream
1 avocado, diced Hot sauce
Instructions
Set Instant Pot to "sauté" and allow it to preheat for 3 minutes. Heat 2 teaspoons of the oil until hot. Add bell pepper, onion, and garlic; stir and arrange in an even layer. Cook, undisturbed, until lightly browned around the edges, about 3 minutes. Stir, and continue to cook until tender and golden, 3 to 5 minutes. Transfer onion mixture to a plate.
Stir together salt, chili powder, cumin, and pepper; sprinkle most of the spice mixture evenly on the meaty side of chicken breasts. Add remaining 1 teaspoon oil to pot. Place chicken, spice side down, in hot oil, and sear 3 minutes. Sprinkle bone side of chicken with remaining spice mix; flip. Add stock; cover and press cancel. Set cooker to high pressure for 10 minutes.
Carefully release pressure and remove lid. Press "cancel". Transfer chicken to a platter; shred chicken and discard bones. Place shredded chicken and onion mixture in hot liquid. Serve fajita mixture over cauliflower rice; top with tomatoes, cheese, sour cream, avocado, and hot sauce.
Watch the recipe video here:
Feels indulgent, but you're not breaking any #Keto rules. GET THE RECIPE: https://trib.al/8TOXCe1 (via Well Done)

Posted by MyRecipes on Thursday, May 30, 2019