Fruity Cereal Donuts
Fruity Cereal Donuts recipe.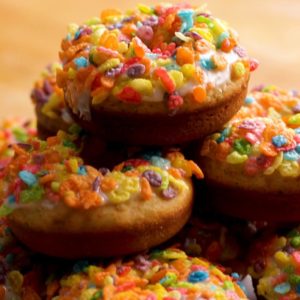 Ingredients
nonstick cooking spray, for greasing
GLAZE
1 cup fruit flavored rice cereal (30 g)
¾ cup milk (180 mL)
2 ¼ cups powdered sugar (270 g), sifted
DONUTS
2 ½ cups all purpose flour (310 g)
1 cup fruit flavored rice cereal (30 g), finely crushed
1 ½ teaspoons baking powder
¼ teaspoon baking soda
½ teaspoon kosher salt
1 cup granulated sugar (200 g)
½ cup vegetable oil (120 mL)
2 large eggs
1 cup milk (240 mL)
½ teaspoon vanilla extract
TOPPING
1 ½ cups fruit flavored rice cereal (45 g)
SPECIAL EQUIPMENT
Instructions
Preheat the oven to 425˚F (220˚C). Grease the donut pans with nonstick spray.
In a medium bowl, combine the cereal and milk for the glaze. Set aside to soak while you make the donuts, about 20 minutes. Strain into a clean bowl, pressing on the cereal to extract as much milk as possible.
Make the donuts: In a medium bowl, combine the flour, crushed cereal, baking powder, baking soda, and salt. Stir to combine.
In a large bowl, whisk together the sugar, vegetable oil, eggs, milk, and vanilla. Add the dry ingredients and whisk until there are no lumps.
Transfer the batter to a piping bag or zip-top bag with a corner cut off. Pipe the batter into the prepared donut pans. Leave about ¼ inch (6 ml) from the rim, so they don't overflow.
Bake for 9-10 minutes, until the donuts are just beginning to turn golden brown around the edges and a toothpick inserted in the center comes out clean. Let cool in the pan for 5 minutes, then transfer to a wire rack to continue cooling for about 20 minutes.
Make the glaze: In a medium bowl, combine the powdered sugar and ¼ cup of the cereal milk. Whisk until smooth.
Add the cereal for topping to a shallow dish.
Once cooled, dip the tops of the donuts into the glaze, then into the cereal. Set on a wire rack set over a baking pan to dry for at least 20 minutes, until the glaze is no longer shiny.
Enjoy!
Watch the recipe video here:
Fruity cereal donuts… simply perfect. ??Get the recipe: https://tasty.co/recipe/fruity-cereal-donuts

Posted by Tasty on Saturday, June 29, 2019