Cuban-Style Roast Pork
Fragrant, savory, and succulent pork roast the whole family will love. Serve with cumin scented black beans, and mashed sweet potatoes.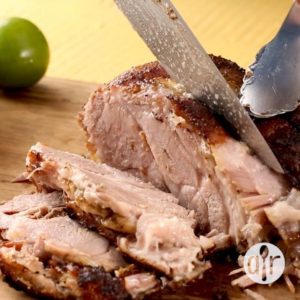 Ingredients
4 cloves garlic
2 teaspoons kosher salt
1 teaspoon ground black pepper
1 teaspoon ground cumin
1 teaspoon dried oregano
1 teaspoon ground coriander
3 tablespoons lime juice
3 tablespoons orange juice
3 tablespoons olive oil
1½ teaspoons white wine vinegar
1 (4 pound) pork shoulder roast
Instructions
Grind garlic, salt, black pepper, cumin, oregano, and coriander into a paste using a mortar and pestle.
Transfer half of the garlic and spice paste to a bowl; add lime juice, orange juice, olive oil, and vinegar. Beat the mixture with a whisk until smooth.
Cut several inch-long, deep slits into the fatty side of the pork roast. Rub the reserved garlic paste into the slits.
Put rubbed roast into a gallon-size resealable plastic bag. Pour the liquid mixture over the roast, squeeze as much air from the bag as possible and seal; refrigerate, turning occasionally, 8 hours to overnight.
Remove pork roast from refrigerator, put into a roasting pan, and let warm at room temperature for 30 minutes.
Preheat oven to 400 degrees F (200 degrees C).
Roast pork in preheated oven for 30 minutes, reduce heat to 375 degrees F (190 degrees C), and continue cooking until pork is no longer pink in the center, about 2 hours more. An instant-read thermometer inserted into the center should read at least 170 degrees F (75 degrees C).
Watch the recipe video here: