Spinach Mushroom Tortellini Soup
Spinach Mushroom Tortellini Soup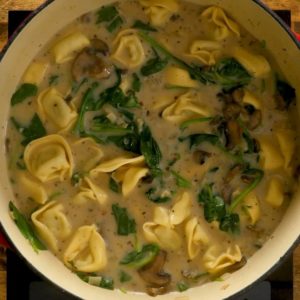 Ingredients
2 tablespoons unsalted butter
1 tablespoon extra-virgin olive oil
1 (8 oz.) package cremini mushrooms, quartered or sliced
1 yellow onion, chopped
4 cloves garlic, minced
2 teaspoons fresh thyme, stems removed
1 teaspoon dried sage
¼ teaspoon red pepper flakes
¼ teaspoon nutmeg
¼ cup all-purpose flour
½ cup white wine
1½ (32 oz.) cartons vegetable or low-sodium chicken broth
1 (8 oz.) package cheese tortellini (or spinach or meat)
¾ cup parmesan cheese, grated, plus more for garnish
1 (10 oz.) package fresh spinach, roughly chopped
½ cup half-and-half
Kosher salt and freshly ground pepper, to taste
Instructions
Melt butter and olive oil in a large stock pot or Dutch oven over medium-high heat and sauté mushrooms and onion for 10-12 minutes, or until softened and onions are translucent.
Season with salt and pepper, then add garlic and cook for 1-2 minutes, or until fragrant.
Add thyme, sage, red pepper flakes and nutmeg, and stir to combine.
Sprinkle flour in and cook for 2-3 minutes, or until veggies are thoroughly coated, then pour in white wine to deglaze pan.
Pour in chicken broth and tortellini, then bring to a boil and cook for 7-9 minutes, or until tortellini is cooked and al dente.
Reduce heat to low, then stir in spinach, parmesan cheese and half-and-half, cooking until spinach is wilted and cheese is melted.
Transfer to bowls and serve hot!
Watch the recipe video here: