Chicken Tikka Goujons
Chicken Tikka Goujons recipe.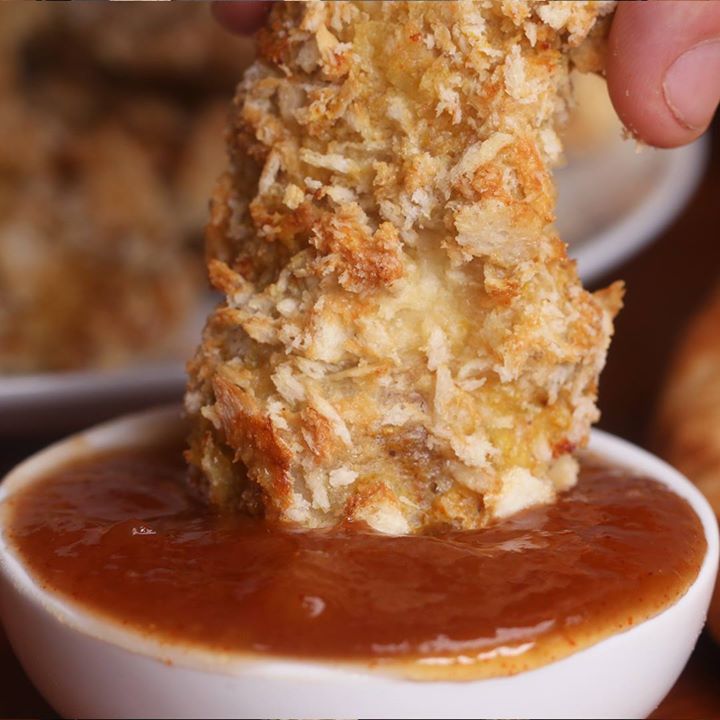 Ingredients
2 chicken breasts
50 g (⅓ cup) plain flour
50 g (1 cup) panko breadcrumb
2 eggs, beaten
mango chutney, to serve
MARINADE
4 tablespoons greek yogurt
1 teaspoon chili powder
2 teaspoons garam masala
1 teaspoon turmeric
1 teaspoon fresh ginger, crushed
1 teaspoon garlic, crushed
salt, to taste
pepper, to taste
Instructions
Preheat oven to 180°C (350°F).
Cut the chicken breasts into thin strips.
In a re-sealable bag, mix the marinade ingredients together and place the chicken strips inside. Make sure they are thoroughly covered and marinate in the fridge for 2 hours (or more if you want a stronger flavour).
Remove the chicken from the marinade and cover in flour, then egg, then panko breadcrumbs.
Bake for 25 minutes.
Enjoy!
Watch the recipe video here:
Add some spice to your starters with these chicken tikka goujons 🍗RECIPE: https://tasty.co/recipe/chicken-tikka-goujons

Posted by Proper Tasty on Tuesday, February 27, 2018